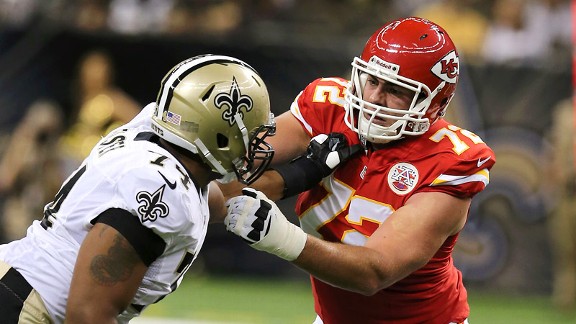 Chuck Cook/USA TODAY SportsChiefs OT Eric Fisher talks about transitioning from the MAC to the NFL and living up to expectations.
Wednesday, Scott Van Pelt and Ryen Russillo preview the World Series, discuss the myriad issues NFL teams are facing with their QBs and much more. Listen to the best highlights of the show below!
Chiefs OT Eric Fisher dishes on his team's success, transitioning to the NFL, Kansas City's pass rushers, living up to lofty expectations and more. Listen

Auburn coach Gus Malzahn comments on facing Johnny Manziel, returning to The Plains, moving on from last year's terrible season, Nick Marshall's development and more. Listen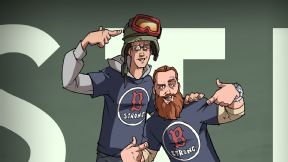 Kevin Roche/Kevjuice.comScott and Ryen take the "Pulse of the Nation."
ESPN NFL analyst Jerome Bettis offers his insight on how lack of leadership in the QB role hurts teams, why he thinks the Chiefs are a better team than the Colts, the Ravens' offensive struggles and more. Listen

ESPN MLB Insider Buster Olney makes his pick for the World Series and shares his thoughts on how the weather could affect Game 1, the Red Sox's running game, the Cardinals' outfield defense and more. Listen

ESPN's Dan Shulman offers his insight on the culture in the Red Sox clubhouse, the Cardinals bullpen, where the Red Sox will use David Ortiz, Michael Wacha's abilities and more. Listen

As the World Series gets underway, Scott and Ryen channel their inner Bostonians as they take the "Pulse of the Nation." Listen

PODCASTS
Ryen Russillo brings his own flavor to the game, mixing some pop culture with the latest happenings.