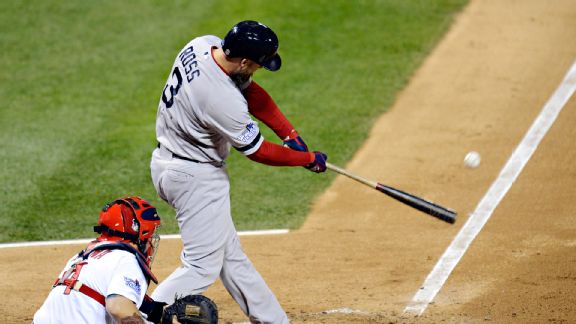 Eileen Blass/USA TODAY SportsRed Sox C David Ross talks to Scott and Ryen about his clutch hit in Game 5 against the Cardinals.
Tuesday, Scott Van Pelt and Ryen Russillo discuss the Red Sox taking a 3-2 lead in the World Series, the struggling Seahawks offense and much more. Listen to the best highlights of the show below!
Red Sox catcher David Ross dishes on his clutch hit in Game 5 against the Cardinals, the pair of great performances by Jon Lester, David Ortiz's hot streak in the postseason and what he expects in the remainder of the series. Listen

Nets guard Jason Terry discusses the championship aspirations of the Nets this season, the club's approach going into the year, the series of events which landed him, Paul Pierce and Kevin Garnett in Brooklyn and more. Listen

ESPN NFL analyst Trent Dilfer offers his insight on Seahawks-Rams, Matthew Stafford's development, how the level of trust between offensive coordinators and QBs influences teams' play, the Panthers' potential and more. Listen

ESPN NFL analyst Tim Hasselbeck shares his thoughts on Dez Bryant's sideline demeanor on Sunday and talks about the latest developments in fantasy football. Listen

ESPN college football analyst Trevor Matich talks about the enormous spread in this weekend's game between Miami and Florida State, dishes on the keys to that game and much more. Listen

ESPN MLB Insider Tim Kurkjian says David Ortiz's performance in the World Series is like nothing he's ever seen before, discusses the managerial decisions that could be second-guessed and weighs in on how he anticipates the rest of the series unfolding. Listen

PODCASTS
Ryen Russillo and Danny Kanell bring their own flavor to the game, mixing some pop culture with the latest happenings.