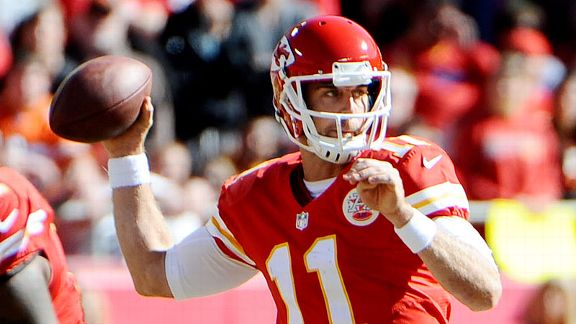 John Rieger/USA TODAY SportsChiefs QB Alex Smith talks about losing his job last year and the upcoming game against the Broncos.
Monday, Scott Van Pelt and Ryen Russillo cover the Dolphins' suspension of Richie Incognito, recap Miami-Florida State and much more. Listen to the best highlights of the show below!
Chiefs QB Alex Smith shares his thoughts about his team's win over the Bills and dishes on the offensive differences between San Francisco and Kansas City, his takeaways from losing his job with the 49ers, the upcoming matchup with the Broncos and more. Listen

ESPN NFL analyst Herm Edwards comments on the need for coaches to set the tone in locker rooms, the Panthers' defense, the Eagles' win over the Raiders, the state of the NFC East and more. Listen

Monday Night Football's Mike Tirico discusses how the Richie Incognito situation could affect the Dolphins on the field, the Seahawks' comeback win, the stress NFL coaches face, the Packers' potential and more. Listen

NFL Network's Rich Eisen weighs in on the NFL's investigation of Richie Incognito, comments on Alex Smith's role with the Chiefs and says Smith handled losing his job last season well. Listen

ESPN college football analyst Danny Kanell talks about BCS championship contenders, Alabama's performance this season and Florida State's success. Plus, he says the SEC doesn't have as much prowess as everyone thinks. Listen

PODCASTS
Will Cain gives you his unfiltered take on the biggest stories in the sports world.