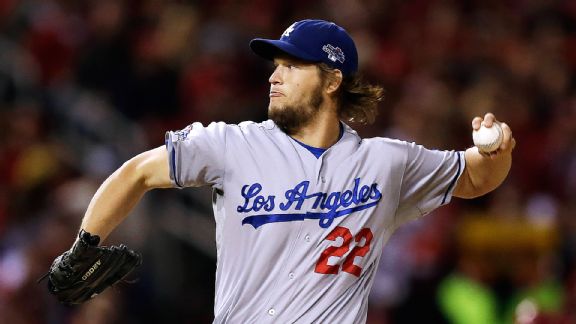 AP Photo/Jeff RobersonDodgers pitcher Clayton Kershaw talks with SVP & Russillo about winning his second CY Young award.
Thursday, Scott Van Pelt and Ryen Russillo discuss a possible scandal at Florida State, play "Who Is the Nerd" and more. Listen to the best highlights of the show below!
Dodgers pitcher Clayton Kershaw chats about winning the NL Cy Young, the strides the Dodger organization made in 2013, weighs in on whether Yasiel Puig got snubbed for the NL Rookie of the Year award and more. Listen

Lions QB Matthew Stafford reacts to Brandon Marshall calling the Lions a dirty team, discusses the thrill of having Calvin Johnson and Reggie Bush as offensive weapons, chats about his friendship with Clayton Kershaw and more. Listen

Scott, Ryen and Stanford Steve embarrass each other in the second installment of "Who Is the Nerd?!" Listen

ESPN the Magazine's Chad Millman shares his thoughts on the sexual assault investigation involving Jameis Winston, talks about the impact it could have on the Seminoles and weighs in on the intriguing betting lines of the weekend. Listen

PODCASTS
Ryen Russillo brings his own flavor to the game, mixing some pop culture with the latest happenings.