NFL Draft on ESPN Radio
The 2013 NFL Draft on ESPN Radio and ESPNRadio.com with hosts Mike Hill, Mark Schlereth and John Clayton continues Friday at 6 p.m. ET with second and third round coverage. Listen

Round 1 photos

NFL DRAFT MACHINE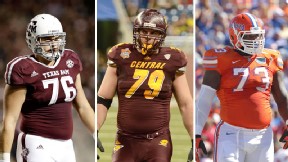 Most teams know what their needs are heading into the NFL draft, so now it's about choosing the right player to best fill the void. Who should teams draft in the first round? Draft Machine »
NFL DRAFT PODCASTS
Best Week Ever
Jemele Hill and Michael Smith discuss why NFL draft week is the best in sports. Listen

First Draft with Todd McShay & Mel Kiper Jr.
2013 COVERAGE

A Good Fit?
What can Manti Te'o bring to the Chargers? Todd, Mel and Trent discuss. Watch

HILL & SCHLERETH'S DRAFT PREP
COMPLETE DRAFT HISTORY
How has your team drafted in previous years? View the history of the draft dating to 1967.