Mike & Mike's Two-A-Days
Greeny and Golic preview two NFL teams every day on Mike and Mike in the Morning.
Updated:
September 8, 2011, 6:35 PM ET
ESPNRadio.com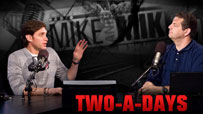 ESPNIt's "Two-A-Days" on Mike & Mike.
"Mike & Mike" provide the answers to five big questions for each team, including what their overall record will be, during their annual NFL Two-A-Days.
This year, "Mike & Mike" asked for your help with a preseason Super Bowl pick. Based on the results of the listener ranker, the playoff matchups were set and the voting began. The Mike & Mike listener pick for this year is a repeat champion, the Green Bay Packers.
Mike & Mike's 2011 NFL Playoffs Picks
| AFC | Greeny | Golic | NFC | Greeny | Golic |
| --- | --- | --- | --- | --- | --- |
| AFC East | New York Jets | New England | NFC East | Philadelphia | Philadelphia |
| AFC North | Pittsburgh | Pittsburgh | NFC North | Green Bay | Green Bay |
| AFC South | Houston | Houston | NFC South | Atlanta | Atlanta |
| AFC West | San Diego | San Diego | NFC West | St. Louis | St. Louis |
| Wild Card | New England | New York Jets | Wild Card | Tampa Bay | Tampa Bay |
| Wild Card | Baltimore | Baltimore | Wild Card | Detroit | Dallas |
| AFC Champs | San Diego | Pittsburgh | NFC Champs | Philadelphia | Atlanta |
| Super Bowl | San Diego | Pittsburgh | | | |
Liam's Mum and the listeners' 2011 NFL Playoffs Picks
| AFC | Liam's Mum | Listeners | NFC | Liam's Mum | Listeners |
| --- | --- | --- | --- | --- | --- |
| AFC East | New England | New England | NFC East | Washington | Philadelphia |
| AFC North | Pittsburgh | Pittsburgh | NFC North | Chicago | Green Bay |
| AFC South | Tennessee | Indianapolis | NFC South | Carolina | Atlanta |
| AFC West | Kansas City | San Diego | NFC West | St. Louis | St. Louis |
| Wild Card | Miami | New York Jets | Wild Card | Green Bay | New Orleans |
| Wild Card | New York Jets | Baltimore | Wild Card | Arizona | Dallas |
| AFC Champs | New England | New England | NFC Champs | Chicago | Green Bay |
| Super Bowl | Chicago | Green Bay | | | |
Mike & Mike's 2011 NFL Two-A-Days