Next Question
Updated:
December 4, 2014, 3:22 PM ET
Mike & Mike on ESPN Radio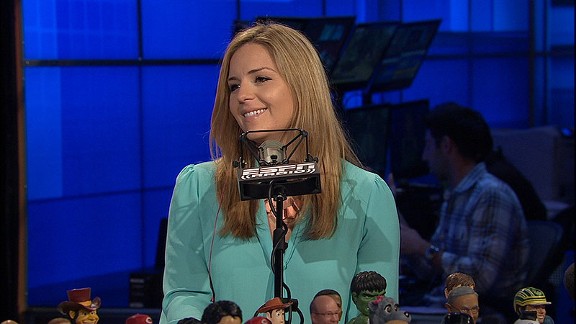 ESPN Balbiz joins Greeny and Golic on the set for "Next Question."
In addition to being Mike & Mike's researcher and the first person from the show to arrive at work each morning, Kristen is the star of "Next Question." Hear some of her favorite segments.
| Date | Subject | Audio |
| --- | --- | --- |
| Dec. 4, 2014 | "Next Question" | Listen |
| Nov. 26, 2014 | "Next Question" | Listen |
| Nov. 21, 2014 | "Next Question" | Listen |
| Oct. 30, 2014 | "Next Question" | Listen |
| Oct. 15, 2014 | "Next Question" | Listen |
| Sep. 24, 2014 | "Next Question" | Listen |
| Sep. 12, 2014 | "Next Question" | Listen |
| Aug. 1, 2014 | "Next Question" | Listen |
| Jul. 23, 2014 | "Next Question" | Listen |
| Jul. 10, 2014 | "Next Question" | Listen |
| Jul. 1, 2014 | "Next Question" | Listen |
| Jun. 24, 2014 | "Next Question" | Listen |
| Jun. 18, 2014 | "Next Question" | Listen, Listen |
| Jun. 13, 2014 | "Next Question" | Listen |
| Jun. 4, 2014 | "Next Question" | Listen |
| May 29, 2014 | "Next Question" | Listen |
| May 23, 2014 | "Next Question" | Listen |
| May 13, 2014 | "Next Question" | Listen |
| May 7, 2014 | "Next Question" | Listen |
| May 1, 2014 | "Next Question" | Listen |
| Apr. 23, 2014 | "Next Question" | Listen |
| Apr. 11, 2014 | "Next Question" | Listen |
| Apr. 1, 2014 | "Next Question" | Listen |
| Mar. 11, 2014 | "Next Question" | Listen |
| Mar. 5, 2014 | "Next Question" | Listen |
| Feb. 27, 2014 | Weird NFL questions | Listen |
| Feb. 27, 2014 | "Next Question" | Listen |
| Feb. 18, 2014 | "Next Question" | Listen, Listen |
| Feb. 12, 2014 | "Next Question" | Listen, Listen |
| Feb. 5, 2014 | "Next Question" | Listen, Listen |
| Jan. 22, 2014 | "Next Question" | Listen, Listen |
| Jan. 14, 2014 | "Next Question" | Listen |
| Jan. 9, 2014 | "Next Question" | Listen |
| Jan. 2, 2014 | "Next Question" | Listen |
| Dec. 19, 2013 | "Next Question" | Listen |
| Dec. 11, 2013 | "Next Question" | Listen |
| Dec. 5, 2013 | "Next Question" | Listen |
| Nov. 27, 2013 | "Next Question" | Listen |
| Nov. 20, 2013 | "Next Question" | Listen |
| Nov. 13, 2013 | "Next Question" | Listen |
| Nov. 6, 2013 | "Next Question" | Listen |
| Oct. 30, 2013 | "Next Question" | Listen |
| Oct. 23, 2013 | "Next Question" | Listen |
| Oct. 17, 2013 | "Next Question" | Listen |
| Oct. 9, 2013 | "Next Question" | Listen |
| Oct. 2, 2013 | "Next Question" | Listen |
| Sep. 25, 2013 | "Next Question" | Listen, Listen |
| Sep. 18, 2013 | "Next Question" | Listen, Listen |
| Sep. 11, 2013 | "Next Question" | Listen |
| Sep. 4, 2013 | "Next Question" | Listen, Listen |
| Aug. 21, 2013 | "Next Question" | Listen, Listen |
| Aug. 2, 2013 | "Next Question" | Listen |
| Jul. 31, 2013 | "Next Question" | Listen |
| Jul. 18, 2013 | "Next Question" | Listen |
| Jul. 11, 2013 | "Next Question" | Listen |
| Jul. 8, 2013 | Buss family dinner | Listen |
| Jun. 25, 2013 | "Next Question" | Listen |
| Jun. 25, 2013 | Catchiest songs of all time | Listen |
| Jun. 20, 2013 | "Next Question" | Listen |