Mike & Mike's NFL Picks
Updated:
December 24, 2012, 8:12 AM ET
Mike & Mike in the Morning on ESPN Radio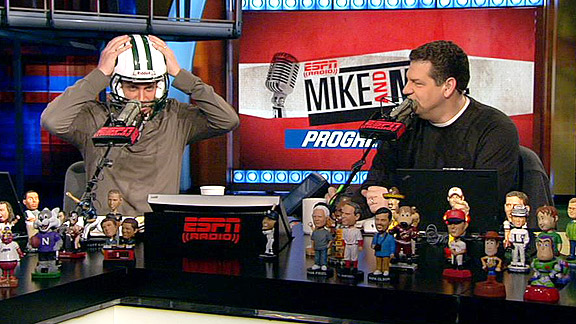 ESPN2Which Mike will have the upper hand at the end of the 2013 season?
Greeny and Golic make picks for every game during the NFL season. Keep track of their progress and weigh in on the selections below.
Week 16
| Game | Greeny | Golic | Winner |
| --- | --- | --- | --- |
| Falcons at Lions | | | |
| Titans at Packers | | | |
| Raiders at Panthers | | | |
| Bills at Dolphins | | | |
| Bengals at Steelers | | | |
| Patriots at Jaguars | | | |
| Colts at Chiefs | | | |
| Saints at Cowboys | | | |
| Redskins at Eagles | | | |
| Rams at Buccaneers | | | |
| Chargers at Jets | | | |
| Giants at Ravens | | | |
| Vikings at Texans | | | |
| Browns at Broncos | | | |
| Bears at Cardinals | | | |
| 49ers at Seahawks | | | |
Week 15
| Game | Greeny | Golic | Winner |
| --- | --- | --- | --- |
| Bengals at Eagles | | | |
| Packers at Bears | | | |
| Giants at Falcons | | | |
| Buccaneers at Saints | | | |
| Vikings at Rams | | | |
| Redskins at Browns | | | |
| Jaguars at Dolphins | | | |
| Broncos at Ravens | | | |
| Colts at Texans | | | |
| Panthers at Chargers | | | |
| Seahawks at Bills | | | |
| Lions at Cardinals | | | |
| Steelers at Cowboys | | | |
| Chiefs at Raiders | | | |
| 49ers at Patriots | | | |
| Jets at Titans | | | |
Week 14
| Game | Greeny | Golic | Winner |
| --- | --- | --- | --- |
| Broncos at Raiders | | | |
| Ravens at Redskins | | | |
| Chiefs at Browns | | | |
| Chargers at Steelers | | | |
| Titans at Colts | | | |
| Jets at Jaguars | | | |
| Bears at Vikings | | | |
| Falcons at Panthers | | | |
| Eagles at Buccaneers | | | |
| Rams at Bills | | | |
| Cowboys at Bengals | | | |
| Dolphins at 49ers | | | |
| Saints at Giants | | | |
| Cardinals at Seahawks | | | |
| Lions at Packers | | | |
| Texans at Patriots | | | |
Week 13
| Game | Greeny | Golic | Winner |
| --- | --- | --- | --- |
| Saints at Falcons | | | |
| Seahawks at Bears | | | |
| Vikings at Packers | | | |
| 49ers at Rams | | | |
| Cardinals at Jets | | | |
| Panthers at Chiefs | | | |
| Colts at Lions | | | |
| Jaguars at Bills | | | |
| Patriots at Dolphins | | | |
| Texans at Titans | | | |
| Buccaneers at Broncos | | | |
| Steelers at Ravens | | | |
| Browns at Raiders | | | |
| Bengals at Chargers | | | |
| Eagles at Cowboys | | | |
| Giants at Redskins | | | |
Week 12
| Game | Greeny | Golic | Winner |
| --- | --- | --- | --- |
| Texans at Lions | | | |
| Redskins at Cowboys | | | |
| Patriots at Jets | | | |
| Raiders at Bengals | | | |
| Steelers at Browns | | | |
| Bills at Colts | | | |
| Broncos at Chiefs | | | |
| Titans at Jaguars | | | |
| Vikings at Bears | | | |
| Falcons at Buccaneers | | | |
| Seahawks at Dolphins | | | |
| Ravens at Chargers | | | |
| 49ers at Saints | | | |
| Rams at Cardinals | | | |
| Packers at Giants | | | |
| Panthers at Eagles | | | |
Week 11
| Game | Greeny | Golic | Winner |
| --- | --- | --- | --- |
| Dolphins at Bills | | | |
| Eagles at Redskins | | | |
| Packers at Lions | | | |
| Cardinals at Falcons | | | |
| Buccaneers at Panthers | | | |
| Browns at Cowboys | | | |
| Jets at Rams | | | |
| Colts at Patriots | | | |
| Jaguars at Texans | | | |
| Bengals at Chiefs | | | |
| Saints at Raiders | | | |
| Broncos at Chargers | | | |
| Ravens at Steelers | | | |
| Bears at 49ers | | | |
Week 10
| Game | Greeny | Golic | Winner |
| --- | --- | --- | --- |
| Colts at Jaguars | | | |
| Bills at Patriots | | | |
| Giants at Bengals | | | |
| Chargers at Buccaneers | | | |
| Broncos at Panthers | | | |
| Titans at Dolphins | | | |
| Raiders at Ravens | | | |
| Falcons at Saints | | | |
| Lions at Vikings | | | |
| Jets at Seahawks | | | |
| Cowboys at Eagles | | | |
| Rams at 49ers | | | Tie |
| Texans at Bears | | | |
| Chiefs at Steelers | | | |
Week 9
| Game | Greeny | Golic | Winner |
| --- | --- | --- | --- |
| Chiefs at Chargers | | | |
| Broncos at Bengals | | | |
| Cardinals at Packers | | | |
| Dolphins at Colts | | | |
| Ravens at Browns | | | |
| Bills at Texans | | | |
| Panthers at Redskins | | | |
| Lions at Jaguars | | | |
| Bears at Titans | | | |
| Vikings at Seahawks | | | |
| Buccaneers at Raiders | | | |
| Steelers at Giants | | | |
| Cowboys at Falcons | | | |
| Eagles at Saints | | | |
Week 8
| Game | Greeny | Golic | Winner |
| --- | --- | --- | --- |
| Buccaneers at Vikings | | | |
| Patriots at Rams | | | |
| Colts at Titans | | | |
| Jaguars at Packers | | | |
| Chargers at Browns | | | |
| Falcons at Eagles | | | |
| Seahawks at Lions | | | |
| Dolphins at Jets | | | |
| Panthers at Bears | | | |
| Redskins at Steelers | | | |
| Raiders at Chiefs | | | |
| Giants at Cowboys | | | |
| Saints at Broncos | | | |
| 49ers at Cardinals | | | |
Week 7
| Game | Greeny | Golic | Winner |
| --- | --- | --- | --- |
| Seahawks at 49ers | | | |
| Titans at Bills | | | |
| Cardinals at Vikings | | | |
| Browns at Colts | | | |
| Ravens at Texans | | | |
| Packers at Rams | | | |
| Cowboys at Panthers | | | |
| Redskins at Giants | | | |
| Saints at Buccaneers | | | |
| Jets at Patriots | | | |
| Jaguars at Raiders | | | |
| Steelers at Bengals | | | |
| Lions at Bears | | | |
Week 6
| Game | Greeny | Golic | Winner |
| --- | --- | --- | --- |
| Steelers at Titans | | | |
| Bengals at Browns | | | |
| Colts at Jets | | | |
| Chiefs at Buccaneers | | | |
| Raiders at Falcons | | | |
| Cowboys at Ravens | | | |
| Lions at Eagles | | | |
| Rams at Dolphins | | | |
| Patriots at Seahawks | | | |
| Bills at Cardinals | | | |
| Vikings at Redskins | | | |
| Giants at 49ers | | | |
| Packers at Texans | | | |
| Broncos at Chargers | | | |
Week 5
| Game | Greeny | Golic | Winner |
| --- | --- | --- | --- |
| Cardinals at Rams | | | |
| Falcons at Redskins | | | |
| Eagles at Steelers | | | |
| Packers at Colts | | | |
| Browns at Giants | | | |
| Titans at Vikings | | | |
| Dolphins at Bengals | | | |
| Ravens at Chiefs | | | |
| Seahawks at Panthers | | | |
| Bears at Jaguars | | | |
| Broncos at Patriots | | | |
| Bills at 49ers | | | |
| Chargers at Saints | | | |
| Texans at Jets | | | |
Week 4
| Game | Greeny | Golic | Winner |
| --- | --- | --- | --- |
| Browns at Ravens | | | |
| Patriots at Bills | | | |
| Vikings at Lions | | | |
| Panthers at Falcons | | | |
| 49ers at Jets | | | |
| Chargers at Chiefs | | | |
| Titans at Texans | | | |
| Seahawks at Rams | | | |
| Dolphins at Cardinals | | | |
| Raiders at Broncos | | | |
| Bengals at Jaguars | | | |
| Saints at Packers | | | |
| Redskins at Buccaneers | | | |
| Giants at Eagles | | | |
| Bears at Cowboys | | | |
Week 3
| Game | Greeny | Golic | Winner |
| --- | --- | --- | --- |
| Giants at Panthers | | | |
| Rams at Bears | | | |
| Buccaneers at Cowboys | | | |
| 49ers at Vikings | | | |
| Lions at Titans | | | |
| Bengals at Redskins | | | |
| Jets at Dolphins | | | |
| Chiefs at Saints | | | |
| Bills at Browns | | | |
| Jaguars at Colts | | | |
| Eagles at Cardinals | | | |
| Falcons at Chargers | | | |
| Texans at Broncos | | | |
| Steelers at Raiders | | | |
| Patriots at Ravens | | | |
| Packers at Seahawks | | | |
Week 2
| Game | Greeny | Golic | Winner |
| --- | --- | --- | --- |
| Bears at Packers | | | |
| Buccaneers at Giants | | | |
| Cardinals at Patriots | | | |
| Vikings at Colts | | | |
| Saints at Panthers | | | |
| Chiefs at Bills | | | |
| Ravens at Eagles | | | |
| Raiders at Dolphins | | | |
| Browns at Bengals | | | |
| Texans at Jaguars | | | |
| Cowboys at Seahawks | | | |
| Redskins at Rams | | | |
| Jets at Steelers | | | |
| Titans at Chargers | | | |
| Lions at 49ers | | | |
| Broncos at Falcons | | | |
Week 1
| Game | Greeny | Golic | Winner |
| --- | --- | --- | --- |
| Cowboys at Giants | | | |
| Colts at Bears | | | |
| Eagles at Browns | | | |
| Bills at Jets | | | |
| Redskins at Saints | | | |
| Patriots at Titans | | | |
| Jaguars at Vikings | | | |
| Dolphins at Texans | | | |
| Rams at Lions | | | |
| Falcons at Chiefs | | | |
| 49ers at Packers | | | |
| Panthers at Buccaneers | | | |
| Seahawks at Cardinals | | | |
| Steelers at Broncos | | | |
| Bengals at Ravens | | | |
| Chargers at Raiders | | | |
Overall records - Greeny: 143-96-1, Golic: 149-90-1