Commentary
It's a Twitter world
Updated:
March 31, 2009, 2:44 PM ET
By
Jason Smith
| AllNight on ESPNRadio.com
It took my dad years to finally get a computer. He never thought he needed it. "I can call you on the phone if I want to know something," he'd tell me. That put me on notice that I could get a call at any time asking me who played second base for the Mets in 1978. (Doug Flynn, if you were wondering. Then I think he retired to become a country music singer. Too bad. He had a great glove.) It also told me he'd always be hesitant to new technology.
Although my dad is a big sports fan, he had been more than willing to wait until Thursday's paper to learn the late West Coast scores from Tuesday night's games. But now, my dad would be passed by as a fan. This month told you that in a very loud way. When you look back in a few years wondering just when the way we covered sports changed, you'll say it was in March 2009.
[+] Enlarge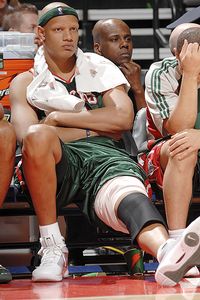 Allen Einstein/NBAE/Getty ImagesCharlie Villanueva made headlines for his recent Tweet.
Curt Schilling announced his retirement from Major League Baseball via his blog. Lance Armstrong Twittered updates on his broken collarbone. ("It hurts. Having surgery. A goat got in my way. I never did drugs. I really miss Sheryl Crow.") Shaquille O'Neal and Charlie Villanueva were in the news for Twittering updates about their teams during games. Gilbert Arenas talked about his possible return to the Wizards' lineup via text message. Stop the insanity! To quote a "West Wing" line from the late Ron Silver, "I only have so much RAM in my head." We now need to keep up with our favorite stars via various Internet devices on a regular basis as we never have before. And it's not going to stop, at least until the next big thing comes along. Look, Brett Favre retired (for the first time) via voice mail, and that was so 2008. Who does that anymore?
You don't need to worry yet that television and radio will eventually be replaced by athletes' direct messaging to the public. ("I wish Jerricho Cotchery would message me if he's going to be the top target for the Jets today. If he's not, I'm not putting him in my fantasy lineup!") There still needs to be a way for news to get to the masses, and that won't change any time soon. We also want the whole story when something happens, and I don't think Lance Armstrong would interview members of his team, other teams, race officials and doctors (although it must be nice for him to have USA Cycling physician Eric Heiden speaking for him from behind his five gold medals) for quotes on what happened during his comeback-race fall. I also doubt he would write a column, have it proofread and fact-checked, and then post it online. I also think fans who have invested in HDTVs would revolt if that were the case. So I assume your stock in Sony is safe. (Editor's note: Jason Smith is not a stock expert and doesn't own any stock in anything. His advice is for entertainment purposes only.)
But who will be the worrywarts as athletes bypass traditional means of getting their messages out? After all, newspapers are going out of business. Farewell, Seattle Post-Intelligencer. (And just when I learned how to finally pronounce "Intelligencer." Wasn't that a video game system in the 1980s?) If you're a big enough superstar, the media will pick up your blogging thoughts as in Schilling's case and then report the story. It's quite possible "insiders" such as John Clayton, Chris Mortensen and Jay Glazer will have fewer scoops than normal as updates on big events go directly from the players to the fans. Then they'll be replaced by 25-year-old slackers named Jordan who wear American Eagle gear and listen to Slipknot on their iPods while surfing the Internet reading blogs and discerning what is news and what isn't, then reporting that news to their bosses ... who will put it on TV.
Right example: "Hey, Steve Nash wants to be traded! That's huge!"
Wrong example: "Steve Nash wants to be traded. But he also says he's eating Funyuns on the bus right now. Dude, I love Funyuns! I'm going to go buy some."
I remember when advertisements in magazines first started putting Web addresses on the bottom to tell you where to go for more information (though I don't recall seeing them on Funyuns advertisements). I thought it was weird and wondered whether it would have staying power.
It was 1997. Suffice it to say, the power stayed.
With new technological devices coming every few months -- MySpace begat Facebook, which begat Twitter -- we'll never go back. We'll simply adjust. We'll get updates on retirements via blogs, medical updates on Twitter and Facebook status updates on marriages that break up. Don't worry, we'll still be here to tell you about everything after they break. But the way the news reaches us and you will be different forever. Watch how regularly stories are first reported this way and then confirmed by large news sources. Newspapers won't come back, at least not in the old form we knew them. You can still read their content online for the most part.
Likely talking about a story first broken on Twitter.
Jason Smith is the host of "AllNight with Jason Smith" (weekdays 1 to 5 a.m. ET/10 p.m. to 2 a.m. PT). Get in touch with him at allnight@espnradio.com.