Commentary
Best and worst of the NFL draft
Updated:
April 21, 2009, 12:41 PM ET
By
Jason Smith
| AllNight on ESPNRadio.com
Saturday is a day we've waited for for a long time. And no, not because "The Day The Earth Stood Still" is available on PPV (though I have to say, Keanu Reeves was pretty believable as the robot with a wooden personality. When you need someone to act like a robot, he's the guy you call.) Of course, it's the NFL draft, descending upon us in all its glory. The new beginning for us all … except for Detroit, where it's just more of the same. With that in mind, here are the three best things about the draft and two things that need to be changed.
BEST
1.) Mel Kiper's hair. I know it's a cliché, so let's deal with it and get it out of the way. Of all the e-mails I get from Mel's appearances on my show, the most we've ever received came two weeks ago when he said he was going to let my listeners decide whether or not he gets a haircut before the draft or lets his hair grow really long. Swear to God. Sure, we had our fair share of Mohawks, mullets (or would that be a Mel-let?), completely bald and Ricky Vaughn "Major League"-esque suggestions, but the sheer volume was what impressed me. His hair has taken on a life of its own (kind of like Zac Efron's popularity). And let's be honest: It's one impressive head of hair. To be almost 50 and have that kind of hairline? Mel's hair should be cloned and used to help those follically challenged like myself. Or frozen until science finds a way to implant every single man on the planet with it.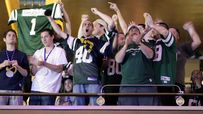 AP Photo/Julie JacobsonJets fans were happy with last year's pick, but that's not always the case.
2.) Jets fans. The real rock stars of the NFL draft. These are my peeps. As a Jets fan, I claim them as my brethren. And these are the real Jets fans. The ones who live underneath the subway and come out for one day a year into the sunlight to boo whomever the Jets draft. The Jets could draft Matthew Stafford, Beyonce, Sully Sullenberger and Optimus Prime and they'd still have the fans at the draft yelling and screaming that Rose McGowan would have been better than Beyonce, Chuck Yeager could fly rings around Sully and, well, it is kind of tough to get better than Optimus Prime, so maybe they'd be quiet about that. Yes, we've had our share of disappointments (Jeff Lageman, Roger Vick, Dave Cadigan, Blair Thomas … sorry, the draft is Saturday and I could spend all the time until then listing the Jets' busts, but I'd like for you to be able to get away from the computer to eat at some point).
I could list the Jets' top 50 all-time draft busts and people would still tell me I missed some. For most of us, the draft doesn't start until the Jets are on the clock. In fact, "The Jets are on the clock" has become such a part of our vernacular the last few years it's automatic. I had a friend of mine last year talk to me about the segments Mel Kiper and Todd McShay do for "SportsCenter" called "On the Clock," and he actually said to me "Hey, did you see Mel on 'SportsCenter' doing the 'Jets are on the clock' segment on the Giants?" I'm not greedy. The Jets only get one day a year to themselves, when the spotlight shines the brightest, and if it's full of hatred and venom (ooh, I forgot Browning Nagle!), then it's full of hatred and venom.
3.) Every pick is a great pick. That is, unless you are entering "Tommy Maddox to the Broncos" territory. Nowadays, no one butchers the draft so badly that picks are ripped mercilessly (see Jets, New York). Now, it's more of a kinder, gentler "This one is a bit of a head-scratcher, but the Miami Dolphins have drafted Bill Parcells." Teams simply don't go as far outside the box as they used to. Sure, they go a little outside, but it's explainable. Any time your team goes for a player who's a bit of a reach? It's called a "need pick." If you have a glut of wide receivers and your team takes another? It's a "best guy on the board" theory. For one or two days (or at least until the draft grades come out) everything everyone does is a winning strategy. It's kind of like spending the day at Disneyland. It's fun for everyone in the family and, at the end of the day, everyone eats ice cream and wears Mickey Mouse ears with no shame.
CHANGES
1.) The start time. The draft starts at 4 p.m. ET? Are you kidding me? You're going to make me wait an hour longer than last year, which was three hours too long to begin with? I don't know what the philosophy is here, but wow, have you played with the events' exposure. This is not the Super Bowl. It's a Saturday in April, and if you don't start the draft until 4 p.m., that gives everyone the whole day to go out and do something else instead of waking up and watching the draft. "Not until 4? I can go to Home Depot, stop off at Target and I should make it back for 4." Maybe you do, and maybe you don't. You would think the NFL would want maximum exposure to their product, and you have to make it as easy as possible for the fans when you're out of season. It's a lot to expect to ask fans to wait around all day or play havoc with their schedule to make sure they can be in front of their TV at 4 p.m. on a Saturday, a pretty awkward time. It's too easy to say "Well, I have stuff to do, I'll just check it out later to see what I missed." Let's get back to noon ET to make it impossible to leave the house beforehand. After all, I would like one day a year to have a valid excuse to stay in my pajamas until prime time. The rest of the year it's on me, but give me this one time.
2.) The first pick. Does the team with the first pick really need to be put "on the clock?" The Lions have known since January they were picking first. Why can't we start with a bang and have Roger Goodell welcome everyone and then announce the Lions' pick? We get all amped up and then have to wait while a team waits a few minutes for a crazy trade offer which never comes, or while they wait because the guy who's supposed to turn in the card is in the bathroom. The Oscars don't segue from their opening musical number to best sound editing. NASCAR starts with Daytona. "Dancing With the Stars" starts with dancing. The NFL draft should start with a pick. Unless of course, the team passes because they're still not sure who they want. In which case, the comedic element will be worth it.
And it is the Lions picking first, so you never know.
Jason Smith is the host of "AllNight with Jason Smith" (weekdays 1 to 5 a.m. ET/10 p.m. to 2 a.m. PT). Get in touch with him at allnight@espnradio.com.