Stone Cold Lead Pipe Locks
Updated:
December 21, 2009, 4:10 PM ET
"Mike & Mike in the Morning" on ESPN Radio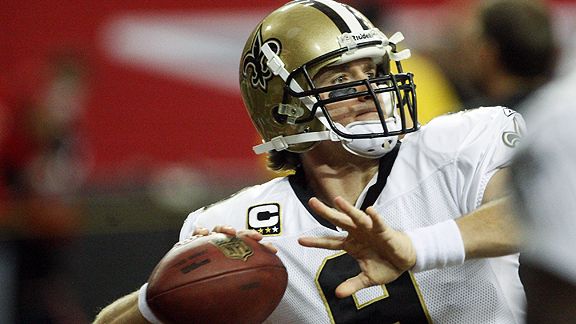 AP Photo/John BazemoreCan Drew Brees and the Saints remain undefeated and deliver Mike Golic another win?
Mike Greenberg and Mike Golic each select one Stone Cold Lead Pipe Lock of the week and then go head to head every week during the football season. Who will win their season-long battle? In Week 15, the guys go head to head over Cowboys-Saints.
Week 15 Stone Cold Lead Pipe Locks - Listen

| Greeny's Winner | Opponent | Result | Golic's Winner | Opponent | Result |
| --- | --- | --- | --- | --- | --- |
| San Diego (-6.5) | Cincinnati | Loss | Minnesota (-7) | Carolina | Loss |
| Dallas (+7) | New Orleans | Win | New Orleans (-7) | Dallas | Loss |
Week 14 Stone Cold Lead Pipe Locks - Listen

| Greeny's Winner | Opponent | Result | Golic's Winner | Opponent | Result |
| --- | --- | --- | --- | --- | --- |
| San Diego (+3) | Dallas | Win | Philadelphia (+1) | New York Giants | Win |
| Minnesota (-6.5) | Cincinnati | Win | Cincinnati (+6.5) | Minnesota | Loss |
Week 13 Stone Cold Lead Pipe Locks - Listen

| Greeny's Winner | Opponent | Result | Golic's Winner | Opponent | Result |
| --- | --- | --- | --- | --- | --- |
| Washington (+9) | New Orleans | Win | Philadelphia (+1.5) | Atlanta | Win |
| Tennessee (+7) | Indianapolis | Loss | Indianapolis (-7) | Tennessee | Win |
Week 12 Stone Cold Lead Pipe Locks - Listen

| Greeny's Winner | Opponent | Result | Golic's Winner | Opponent | Result |
| --- | --- | --- | --- | --- | --- |
| Oakland (+14) | Dallas | Loss | Detroit (+8) | Green Bay | Loss |
| Denver (+6) | New York Giants | Win | New York Giants (-6) | Denver | Loss |
Week 11 Stone Cold Lead Pipe Locks - Listen

| Greeny's Winner | Opponent | Result | Golic's Winner | Opponent | Result |
| --- | --- | --- | --- | --- | --- |
| Dallas (-11) | Washington | Loss | New York Giants (-6.5) | Atlanta | Loss |
| Baltimore | Indianapolis | Loss | Indianapolis | Baltimore | Win |
Week 10 Stone Cold Lead Pipe Locks - Listen

| Greeny's Winner | Opponent | Result | Golic's Winner | Opponent | Result |
| --- | --- | --- | --- | --- | --- |
| Pittsburgh (-7) | Cincinnati | Loss | Dallas (-3) | Green Bay | Loss |
| San Diego (-2.5) | Philadelphia | Win | Philadelphia (+2.5) | San Diego | Loss |
Week 9 Stone Cold Lead Pipe Locks - Listen

| Greeny's Winner | Opponent | Result | Golic's Winner | Opponent | Result |
| --- | --- | --- | --- | --- | --- |
| Philadelphia (-3) | Dallas | Loss | Houston (+9) | Indianapolis | Win |
| New York Giants (-5) | San Diego | Loss | San Diego | New York Giants | Win |
Week 8 Stone Cold Lead Pipe Locks - Listen

| Greeny's Winner | Opponent | Result | Golic's Winner | Opponent | Result |
| --- | --- | --- | --- | --- | --- |
| San Francisco (+12) | Indianapolis | Win | Chicago (-13.5) | Cleveland | Win |
| Minnesota (+3) | Green Bay | Win | Green Bay (-3) | Minnesota | Loss |
Week 7 Stone Cold Lead Pipe Locks - Listen

| Greeny's Winner | Opponent | Result | Golic's Winner | Opponent | Result |
| --- | --- | --- | --- | --- | --- |
| Atlanta (+4) | Dallas | Loss | Pittsburgh (-4) | Minnesota | Win |
| Miami (+6.5) | New Orleans | Loss | New Orleans (-6.5) | Miami | Win |
Week 6 Stone Cold Lead Pipe Locks - Listen

| Greeny's Winner | Opponent | Result | Golic's Winner | Opponent | Result |
| --- | --- | --- | --- | --- | --- |
| New York Giants (+3) | New Orleans | Loss | Baltimore (+3) | Minnesota | Win |
| Chicago (+3) | Atlanta | Loss | Atlanta (-3) | Chicago | Win |
Week 5 Stone Cold Lead Pipe Locks - Listen

| Greeny's Winner | Opponent | Result | Golic's Winner | Opponent | Result |
| --- | --- | --- | --- | --- | --- |
| New England (-3) | Denver | Loss | Carolina (-3.5) | Washington | Loss |
| San Francisco (-2.5) | Atlanta | Loss | Atlanta (+2.5) | San Francisco | Win |
Week 4 Stone Cold Lead Pipe Locks - Listen

| Greeny's Winner | Opponent | Result | Golic's Winner | Opponent | Result |
| --- | --- | --- | --- | --- | --- |
| Cincinnati (-4.5) | Cleveland | Loss | Dallas (-3) | Denver | Loss |
| New England (-2) | Baltimore | Win | Baltimore (+2) | New England | Loss |
Week 3 Stone Cold Lead Pipe Locks - Listen

| Greeny's Winner | Opponent | Result | Golic's Winner | Opponent | Result |
| --- | --- | --- | --- | --- | --- |
| Baltimore (-13.5) | Cleveland | Win | Chicago (-2.5) | Seattle | Win |
| New England (-4) | Atlanta | Win | Atlanta (+4) | New England | Loss |
Week 2 Stone Cold Lead Pipe Locks - Listen

| Greeny's Winner | Opponent | Result | Golic's Winner | Opponent | Result |
| --- | --- | --- | --- | --- | --- |
| Chicago (+3) | Pittsburgh | Win | New England (-3.5) | New York Jets | Loss |
| Dallas (-3) | New York Giants | Loss | New York Giants (+3) | Dallas | Win |
Week 1 Stone Cold Lead Pipe Locks - Listen

| Greeny's Winner | Opponent | Result | Golic's Winner | Opponent | Result |
| --- | --- | --- | --- | --- | --- |
| New Orleans (-13) | Detroit | Win | Minnesota (-4) | Cleveland | Win |
| Green Bay (-3.5) | Chicago | Win | Chicago (+3.5) | Green Bay | Loss |
Overall records: Greeny: 14-16, Golic: 15-15