Commentary
ESPN Radio Extra Point
Tom Izzo's Michigan State teams always come prepared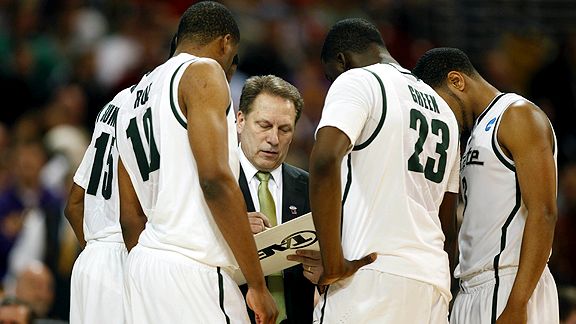 Brian Spurlock/US Presswire
Monday afternoon on SportsCenter, coach Bob Knight made a passing comment that really surprised me when he said so many teams arrived at this year's tournament not prepared to play. How can a team, how can a coach not have his team ready to play in March? Shameful. One coach who is never guilty of that is Tom Izzo. Over the past dozen years, Michigan State has reached the Final Four six times.
This year, the Spartans were 5-5 over their last 10 regular season games and yet here they are, now a win away from a return trip to the title game. The Spartans have won their games by 7, 3, 2 and 1 point in the tournament. Their +13 scoring margin is the lowest for a team to reach the Final Four since the field expanded to 64 teams in 1985.
Their games aren't pretty but style points aren't what they're after. The Spartans have come prepared. Now their preparation meets opportunity as another 5-seed, Butler, awaits on Saturday. This team is a credit to its coach.
To listen to more ESPN Radio Extra Points, visit the archive page.
SportsCenter anchor
Chris McKendry is the co-anchor for 12pm to 3pm ET SportsCenter. McKendry has also served as an anchor on ESPNEWS, Weekend Morning SportsCenter, and Sunday Sportsweekly. Prior to joining ESPN, McKendry was the first woman to work as a TV sports news anchor in the Washington D.C. market. In June 1996, she received a regional Sports Emmy in the Best Sports Segment Category for "NFL 101."