Commentary
ESPN Radio Extra Point
The NFL draft delivers great moments for the millions watching
Updated:
April 23, 2010, 2:50 PM ET
By
Jeremy Schaap
| ESPNRadio.com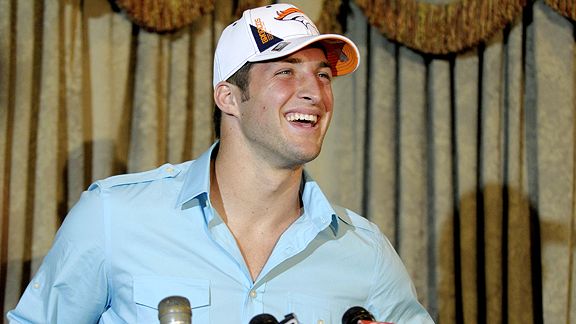 AP Photo/Phelan M. Ebenhack
Spending draft night with a potential first-round pick is a tricky assignment -- at least when the player in question is on the first-round bubble. There's the potential for both tremendous excitement and serious disappointment. So much is at stake and by that time the athlete has virtually no ability to influence his fate.
Last night, I was with Tim Tebow of Florida as he waited ... and waited, but didn't wait as long as many expected, to be selected in the first round by the Denver Broncos.
Seven years ago, I spent the day with Willis McGahee of Miami, who also went in the first round, despite the severe knee injury he'd suffered four months earlier in the Fiesta Bowl. When the Bills selected McGahee, he wept. At least that's how I remember it. Tebow didn't cry, but he was clearly elated. Those kinds of moments are why the draft has become an event watched by millions of Americans.
There's no athleticism on display, no game on the line -- but there is strategy and careers are on the line. The draft is about hope -- and that's why we watch.
To listen to more ESPN Radio Extra Points, visit the archive page.
SportsCenter Reporter/Host, Classic Sports Reporters
Jeremy Schaap is an ESPN anchor and national correspondent, based in New York since 1998. He is a New York Times best-selling author ("Cinderella Man: James J. Braddock, Max Baer, and the Greatest Upset in Boxing History") and a contributor to "ABC World News Tonight" and "Nightline."