Herd Approved
Herd Approved
Updated:
May 7, 2009, 9:36 AM ET
The Herd at ESPNRadio.com
[+] Enlarge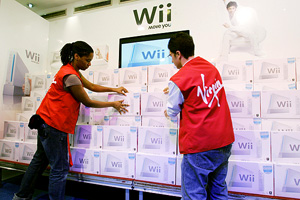 Jack Guez/AFP/Getty ImagesColin just loves the Wii.
Colin tested. Herd approved. Here are Colin's top recommendations. (Newest ones at the top!)


Added April 27: Thrilla in Manila: Great documentary on HBO -- even if you don't like boxing.
Man on Wire: As good a documentary as I have seen in my life.
Slum Dog Millionaire: Great movie making. Very emotional.
Religulous: Bill Maher movie. Really makes you think.
The Sham-Wow: You've seen the commercials. Does it really work? Yes, we tried it out live on the air in studio.
The Counter: Great burger joint in Hartford, CT based out of California.
"Cocaine Cowboys:" "An unbelieve show on drug smuggling. I could not believe what Miami was like in the '60s or '70s."
The HBO documentary Dare to Dream: "Documentary on the Mia Hamm-led USA women's soccer team. I forgot how big this game was to the American women."
Any column by Norman Chad: "He's the funniest guy in print and anytime you can read one of his columns, he always delivers. First ballot Hall of Famer."
Nintendo Wii: "Great for exercising. Great fun with your kids and even adults.I recently played for two hours with my daughter and had a blast. I highly recommend the skiing and bowling games!"
"Hacking Democracy:" "On Demand movie. An interesting 90-minute watch about the way we count votes in America."
Maps.live.com: "If you have nothing else to do, plan on spending two or three hours at this site."
Feature on Mike Coolbaugh from "Real Sports with Bryant Gumbel" on HBO: "Bring your tissues. This one is a tear-jerker. It really makes you evaluate what's important in life."
Vizio: I only endorse products that I really use and there's nothing better than a great college football game in HD on a Vizio.
The movie The Bank Job: "I'm a sucker for British movies and this really delivers."
"UCLA Dynasty" (HBO special, on Demand): "It's a well-crafted hour-long look at basketball, race, tensions over Vietnam on campus."
The London: "Hotel in New York with two of my qualifications for hotel: a great gym and a bar."
U2 3D: "Three of my buddies said this was incredible."
Puffs tissues with Vicks: Colin says it "was a Godsend for me during my recent sickness. I just put the tissue near my nose and my sinuses cleared up."
"The King of Kong - a Fist Full of Quarters:" Colin calls it "a documentary by ESPN's own Ed Cunningham is thought provoking with a great story and great conflict."
The Oscar-nominated movie "Michael Clayton." As Colin puts it, an "intense, smart, thick plot. Great ending."