Mike & Mike: 2009 NFL Predictions
Greeny and Golic preview two NFL teams every day on Mike and Mike in the Morning leading up to the 2009 NFL season.
Updated:
September 10, 2009, 12:58 PM ET
ESPNRadio.com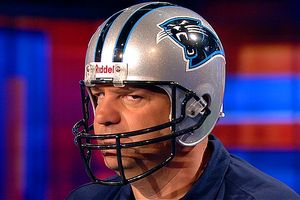 ESPN2Golic tests out the Panthers helmet.
How will Brett Favre do with the Vikings? Does he make the Vikings the NFC North favorite? Can the the Cowboys finally win a playoff game? Will Tom Brady and the Patriots rebound with a trip back to the playoffs? Can the Chargers or Colts represent the AFC?
Mike & Mike provide the answers to five big questions for each team, including what their overall record will be, during their annual NFL Two-A-Days.
Plus, Greeny and Golic make their official Super Bowl picks. Greenberg likes the Patriots to beat the Eagles in the Super Bowl, while Golic likes the Chargers to beat the Eagles. Super Bowl picks

The guys also listen to Super Bowl picks from Denis Leary, Darius Rucker and Kenny Chesney. Celebrity picks

Liam's Mum talks with her producer son and gives her Super Bowl picks. Knowing absolutely nothing about the NFL, she picks the Giants to beat the Bills for the title. Liam's Mum