Russillo on the Road: Gainesville
Updated:
October 14, 2010, 12:26 PM ET
By Ryen Russillo
The Scott Van Pelt Show on ESPN Radio
Russillo on the Road: Gainesville
As part of his responsibilities for College GameDay on ESPN Radio, our own Ryen Russillo will be spending a lot of time on the road again this fall. Ryen documents his trip to Gainesville in the third edition of the second season of "Russillo on the Road."
Foreword
Second time to the swamp and hopefully it goes better than last year. In 2009, our last trip of the season was Florida State-Florida for Tim Tebow's final home game. It was Thanksgiving weekend, I ended up getting beef jerky and Gatorade for dinner from Walmart because everything was closed the day I got there and my hotel room had an inch of dirty bath water in it when I checked in. I was upset until I learned that the TV guys had to stay there as well. I also had an exclusive interview with Bobby Bowden, who told me he was coming back for one more season. He was fired a few days later.
Thursday, 10/7 - 2:30 p.m. ET - Gainesville
Up since 4 a.m., weather is great and it has been an easier trip thus far. The airport is 15 minutes from campus. Stanford Steve and I are headed to Moe's. Big fan, but I have noticed an inconsistency from the different franchises. The one near home is in a really nice town (not my town - I live in the worst place ever) so I've found that Moe's is very stingy. Others load up on the meat, cheese and toppings, so the theory is that the higher the average income of a town, the lower overall volume of taco. Moe's of Gainesville = average taco volume. This stuff does make me mad, but it's probably more of a problem for me that needs to be worked out. Just hate when my food is wrong, man.
3:30 p.m
The boss, Rick Ross. We are rolling through Gainesville, listening to "Teflon Don." He may be the worst popular rapper since
Mase
, but I find myself liking him. I don't know what it is. Think about these lyrics:
"My top back like JFK/They wanna push my top back like JFK/So, so I JFK."
Rarely does a rapper use the same word three times to rhyme. Juvenile went with the "Ha" approach, using it at the end of every sentence, but that was more funny than trying to rap. At least Ross has good beats. The only other person I can think of that could try this style is Les Miles, and it would probably work for him.
7:00 p.m.
We are eating at The Swamp. It's Stanford Steve, Brad Edwards and SI.com's Andy Staples, who went to Florida and played a little O-line. We are watching Nebraska destroy Kansas State and two of us are debating if the bartender could be the hottest girl on earth. Earth has a lot of people, but this girl is definitely a No. 1 seed. The conversation predictably turns to Les Miles in the wake of his team's unlikely win against Tennessee last week. We can't believe how things always seem to work out for him. We start comparing Miles to Mark Richt. Three of us say we would rather hire Richt, while Staples makes the point that you have to go with Miles because, "He is touched by a power beyond our understanding."
10:33 p.m.
I get recognized by some Gator fans. Usually no one notices me, not that I should expect it, but it also has to do with the fact that I look like I'm 5-7 compared to Van Pelt. He's about 6-7 so I look a little bigger in person. One guy is wrecked and wants to buy us shots. Shots over the age of 30 are usually a bad idea. It reminds me of a time in Baton Rouge when we were eating with Chris Fowler and an LSU fan came up to our table with three shots of tequila. Now Fowler is in great shape, a healthy guy and maybe the least likely person I can think of to start ripping shots at a bar. Fowler says thanks, declines and the kid just stands there hammered and stares. No one talks to him, so he pounds all three shots by himself and staggers away. Geaux Tigers.
11:10 p.m.
Talking about tomorrow's show back at the hotel and I realize that Ricky Rubio is playing the Lakers on TV in preseason hoops. I can't wait for Rubio to be great in the NBA. Since the Timberwolves drafted Rubio, people think it's a stupid move . If Les Miles drafted Rubio, he would win the NBA Rookie of the Year while still playing in Spain.
---
Friday, 10/8 - 8:00 a.m.
Wake up and it's probably time to shave. I have been going with the handlebar mustache recently, but since I'm interviewing coaches in person today, I'm going to tighten it up. Two years ago, I interviewed Miles the morning after staying in New Orleans with some friends. I looked like I had been making out with sandpaper so I'll try to be a little more professional today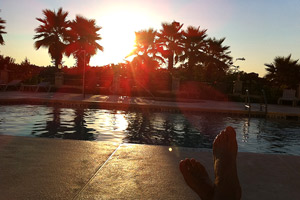 Ryen Russillo/ESPN RadioCollege kids break in here for the view.
9:00 a.m.
Jump in the hotel pool and get some studying done. Brad Edwards is wearing a Rutgers T-shirt. I'd be less surprised if he was wearing a Wham! concert shirt.
10:22 a.m.
We stop to grab a couple of gifts and I ask if they still have any Tebow T-shirts. This is like asking someone who is waiting in line to try out for
American Idol
if they have any unrealistic goals.
11:09 a.m.
Headed over to the set to start the show. This is the plan: SVP Show from 1-4, Danny McBride (a.k.a. Kenny Powers) is live back in studio. After the show, we are going over to the LSU walkthrough to interview Les. Urban Meyer has passed on doing anything for College GameDay on radio. We are told that Meyer will only do national radio from 11:30-11:45 a.m. on Mondays. The caddies at Bushwood had more time to swim. A thought about media relations and PR people:
Our job is to ask for coaches and players, and their job is to balance their busy schedules. I understand it isn't always going to work out, but it's not like we are some made-up podcast. We are ESPN, College GameDay, broadcasting from their campus for three hours on Friday and seven hours on Saturday. The whole setup is an advertisement for their program so you would think we could get five or six minutes with a head coach. It usually works out, but if it can't, just tell us no. Instead, it becomes a game of false hope followed by disappointment.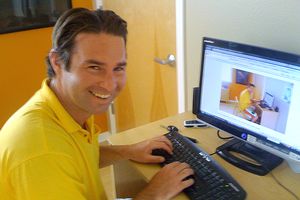 Ryen Russillo/ESPN RadioLes Miles invented time travel. He just hasn't shared it yet.
2:40 p.m.
Danny McBride is on and I'm fired up to talk to him. I've actually been trying to get him on the show for about a year. I thought I had an in since we are represented by the same agency (weird, I know) but instead I got blown off by the place that reps me. Maybe it's because I'm the least-famous person they have. He's a totally normal guy, and things are going well until I decide to try something stupid. I'm not afraid to do a Matt Damon interview in a Boston accent or ask Will Ferrell why he passed on
Last King of Scotland
. Those worked, today didn't. Toward the end I try to do some sarcastic name-drop joke that really doesn't work because he can't see me, and I later find out that the audio got interrupted so they never actually heard me. Feel free to
hear
the awkwardness.
Les Miles would later comment that he thought the interview went well.
3:55 p.m.
Speaking of Les Miles, we get word five minutes before our scheduled interview that he can't join us. We were asked if we could avoid last week and focus on just the Florida game. We can't and because of that, the interview gets canceled.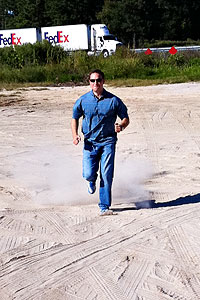 Ryen Russillo/ESPN RadioGet your mind right.
4:30 p.m.
Back at the hotel and the local station asks me to come on as a guest. I always get a little nervous that the local guys will ask me questions I can't answer about their team. Every fan and local media member knows more about their program than any national guy will, and just like when your favorite team is the national broadcast of the week, you always get annoyed that the broadcasters don't know that much. It's actually impossible. We have to know stuff about 60 teams, so remember that next time we forget who the nickel back is.
4:45 p.m.
The interview with Chris Doering and Adam Reardon goes well. They start by asking me why my name isn't on the show and I'm running out of funny responses for this question. After the hit, the manager of the restaurant the station is broadcasting from asks me to come back later and sing karaoke. That's not happening, but I'm kind of scared of him. His name is Georgia Southern Tom. The best way to describe him is if Chris Spielman and Todd Johnson had a baby, he would look like GST (Georgia Southern Tom). Stanford Steve goes with
Ram Man
.
5:30 p.m.
I'm looking to get a workout in (I know) and there is a gym across the street. The place is strange: it's a converted house with a bunch of old machines and the average of its members is about 114 years old.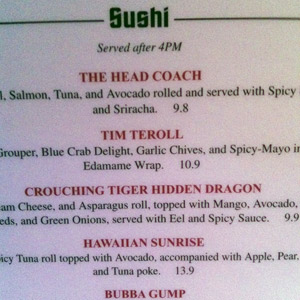 Ryen Russillo/ESPN RadioThis comes with a side of passion.
Nothing that eventful happens other than a guy in the parking lot running timed wind sprints. He seems fast.
8:00 p.m.
Dinner. We are eating at the Ballyhoo Grill. The place is packed and, like every time I come to the south, it's hard to explain to people who haven't been down here for a game weekend that SEC football is just different. The weekend is just a huge event, and the goals are a win and good times, sometimes in the reverse order. We pass on the Tim Teroll and I make the mistake of getting pasta with my steak. The steak is great, but the penne comes with garlic slices the size of poker chips. Never seen anything like it.
---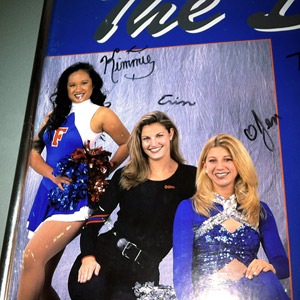 Ryen Russillo/ESPN RadioBefore Dancing with the Stars.
Saturday, 10/9 - 12:32 p.m.
The show has started, along with the drinking (not us). We've got some LSU fans in front of the set and they don't look like they are going to make it to lunch, forget kickoff. During my only trip to Baton Rouge, the Tigers lost to Alabama in OT in Saban's first game back. It was a devastating loss. Five minutes after the game, you would have thought they won the national championship.
3:47 p.m.
Bama-South Carolina has kicked off, and we are also a few hours into some trivia for the crowd. SEC fans love their conference and know nothing about any other teams. Now this isn't a scientific study (two of the subjects may have a higher BAC than IQ), but here is one of the highlights:
"Where does Jim Harbaugh coach?" Silence, followed by...
"The Colts!"
"No, really. No one knows this? It's Stanford. Pac-10?"
"Pac-10? What's that, 1-AA?"
6:44 p.m.
Bama is going to lose. Not entirely surprising. South Carolina has played great today and everybody down here is happy. LSU fans get a loss on a team in the SEC West, and Florida fans who still love Spurrier are happy for him. By the way, the two LSU kids who I was positive wouldn't make it to kickoff are still standing. Impressive.
7:06 p.m.
Just as the show was finishing up, I get a call from Joe Tessitore. This is a little surprising, as I have never met Joe and actually the only thing I have in connection with him is that I impersonate his "Storm the Dorm" segment from the Friday night game. He invites me up to the booth and I'm a little worried it could be an ambush.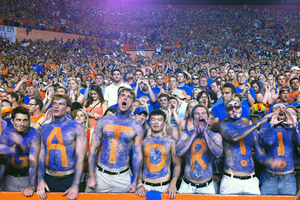 Ryen Russillo/ESPN RadioThe Swamp is like a hug from a sweaty and shirtless Dog the Bounty Hunter.
8:22 p.m.
The Swamp. This place is great. It's only about 80 degrees but you can tell that this place must suck the energy out of the opponent during day games in September. The crowd is right on top of you. The area behind the LSU bench is like a party. I actually notice an on-duty cop giving his phone number to a female student. That guy must be the hero of the precinct.
8:44 p.m.
I'm standing on the LSU sideline. I'm just trying to get close to Miles to see what it's like to have super powers. I can't see if his headset is connected to heaven, but I assume it is. LSU is on the goal line. Miles is frantically trying to get a timeout, but he doesn't get it. TD LSU. Genius.
10:19 p.m.
Florida isn't anything special. Both defenses are really good, LSU's is better, but both teams have their limitations. Surprisingly, Florida doesn't have any game breakers with Jeff Demps out.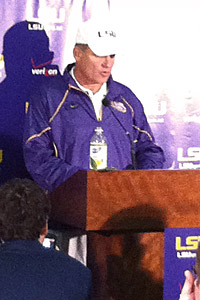 Ryen Russillo/ESPN RadioThe house of Les Miles.
11:01 p.m.
Florida has just put together a huge drive and now lead. LSU has just a few minutes left to get a FG for the tie. Crazy that this scenario is playing out again.
11:06 p.m.
LSU is lining up for a 53-yard FG, except just as the Swamp is about to erupt, it goes silent in disbelief. The Tigers go with the fake and get the first down, and score a game-winning TD a few plays later.
11:22 p.m.
We walk onto the field and decide to go to Miles' postgame press conference. They could charge a cover and I'd still go. I want to see if he will levitate, if maybe the media will pass a basket around and toss in a few bucks, if maybe he can help me with my back pain. At this point, I'd be more surprised if he couldn't heal the sick. No one gets healed except for maybe Miles himself. You get the sense that the criticism he took this week bothered him.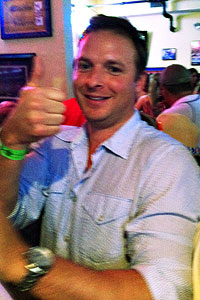 Ryen Russillo/ESPN RadioLook at the old guy having fun.
12:22 a.m.
Still in shock. LSU fans are joyous and may be homeless for the night. We head back to the other Swamp to discuss what we just saw.
12:44 a.m.
The kids are rebounding nicely. Nothing like lowered expectations to help you get over a loss. For the first time in three years, the Gators are out of the national championship picture.
1:00 a.m.
Calling it a night and walking back to the parking lot where our GameDay set was. Car is gone. This has never happened before. People that tow cars for a living shouldn't be allowed to share oxygen with the rest of us. I have to call 10 different places. We obviously can't remember the plate number for the rental car and now we have to find a cab. This takes about 30 minutes. In that time, we have seen one fight between two LSU fans where the loser was either knocked out, taking a nap or playing dead as a default defense.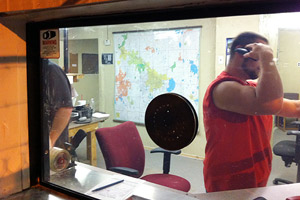 Ryen Russillo/ESPN RadioNothing like finishing the night with a towed car.
2:33 a.m.
We get to the tow lot and it's like an outdoor rave here: kids with pizzas, people arguing and few others inside the fence dancing around a barrel of fire. The cab driver tries to rip me off. At this point, I have little patience. I give her money, tell her to, "Save the stories," and we get out.
3:00 a.m.
Back to the hotel. No talking. Long day. Early flight. I am praying to God that I make my planes. On second thought; I think I'll pray to Les Miles tonight. He may be more powerful.
Stay tuned for the next edition of "Russillo on the Road." Got any questions or suggestions for Ryen? Please comment below and let us know what you think.