Russillo on the Road: Columbus
Updated:
September 15, 2009, 7:04 PM ET
By Ryen Russillo
The Scott Van Pelt Show on ESPN Radio
Russillo on the Road: Columbus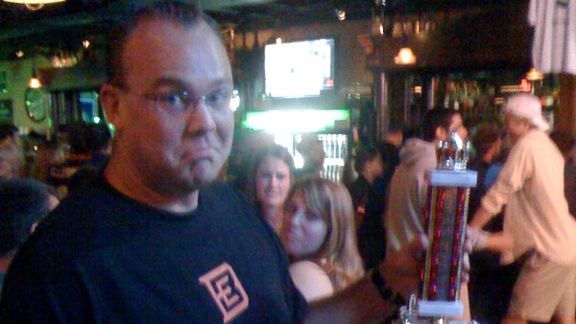 Ever see someone break a trophy after losing a beer pong tournament? Ryen has. He details this and his trip to Columbus in the latest edition of Russillo on the Road.
Thursday 9/10, 1:25 p.m. - Leaving Hartford
We are headed to Columbus, Ohio for USC-Ohio State this week. The Buckeyes were housed in Los Angeles by a score of 35-3 last year. I remember thinking right before kickoff that OSU +13 points was a gift. Good call. Last year's contest was also my first time hosting the show on the road. My biggest concern at the time was waking up on a Saturday morning at 4:30 local time. This year, the challenge is not laughing out loud at the way Ohio State fans dress.
1:26 p.m. - Smack Talk
Been in my seat a minute and already an Ohio State fan is talking smack. He, of course, is wearing a Buckeye track jacket with bright red sweatpants. He looks at me and says, "Y'all hate the Buckeyes, don't you?" A lot of different directions I can go here. My mind is racing with options, such as:
-Why do you have a southern accent?
-I can't believe the crowd didn't vote for you on "Love Connection."
-How come you don't have a matching hat? Was CVS sold out?

Instead, I go with, "No, I don't," and that is the truth. Buckeye fans haven't had a lot of fun over the last few years. The problem is that they get beaten in the biggest games in front of the most viewers, viewers that don't watch regular season Big Ten games when OSU dominates. However, facts are facts, and they have gotten manhandled in five of six big games. We (ESPN) don't criticize Ohio State because it is personal. We point out the results on the field and the fan base takes it personally.
How did the guy recognize me, you ask? He didn't. I have a huge ESPN Radio sticker on my laptop.
"I'm kind of a big deal." - RB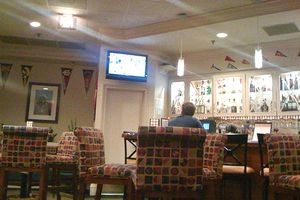 ESPN RadioIs that George Lopez? Turn it up!
7:00 p.m. - Columbus
Last year, we stayed in downtown Columbus. That was not awesome. There was a mall that was open with two full floors and 60 to 70 store units. Only two food stores were in the mall: Subway and a burger place. The rest were empty. I can't imagine the amount of hatred the guy who owned the burger place had for Subway.
This year, we are in a nice hotel closer to campus, and it looks like I got the McShay suite. Heading downstairs to the lobby for Georgia Tech-Clemson. The problem with tonight is that we have a college game going on while the NFL debuts. This isn't a problem in the south, as the televisions would be on the college game, but it's a toss-up in Columbus. Tonight, a guy is sitting solo at the bar in the lobby, turns up the volume on the NFL pregame and the girl from "ET" and the Black Eyed Peas are drowning out an actual football game. I am furious. After ten minutes, I finally ask (in a frustrated voice), "Guy, seriously?"
He turns it down.

11:00 p.m. - Let's Take It In
We see a ton of smoke up the street ahead of us while driving into town. It's not well lit and we are trying to figure out what is going on. Steve Coughlin, one of our producers and a former Stanford TE, says, "Wow, are they barbecuing in the street?" As we get a little closer, we see it's a head-on collision. Tahoe vs. Prius. Tahoe won.
Despite the accident, it's a little less rowdy than expected. We find out that the kids are still not back in class. This moves the number from 2% to .08% for my chances of waking up in a dorm. Walking right into the beast, we hit up a college spot with a beer pong tournament going on. I feel like I am at this in-between age, too old to be here, but too young to sip scotch and sit at a steakhouse for four hours. I'm going for creepy instead of washed up.
I bartended for about eight years, so I have seen the "too old guy" sidle up to the cocktail waitress like Tom Hanks did with his raft. It's a pathetic move. The girl is there to serve drinks, not make it look like a college chick wants to talk to you. I try to avoid this and understand that it isn't my hangout. Get out of the way, watch the game and just be happy you're not in the Northeast.
This is fun, but it always makes you miss college. I start to think back to my time at The University of Vermont and decide that I should have gone out more and I took it for granted. Then I realize that I basically did and lived in Burlington for eight years. I think I got the full experience, idiot.


---
Friday, 9/11 - 12:55 a.m. - Controversy
Uh-oh. There is a dispute after the beer pong final. The loser is not happy, so he takes the trophy and starts breaking it (see photo at the top of the page). This isn't going over well, and he is tackled and sent home for the night. He is drunker than a Viking on his birthday.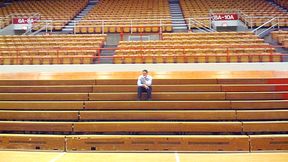 ESPN RadioTaking in an Ohio State women's volleyball match.
4:00 p.m.
I did not just wake up. Already have been to the Ohio State facilities, interviewed Buckeye head coach Jim Tressel and did my show with Scott Van Pelt. The interview went better than the show. Hate when I have a bad show; it will bother me for a few hours. I could never be a closer.
6:00 p.m. - Walkthrough
Our staff has been invited to the USC walkthrough. This is the least organized football activity I have ever seen, and I've been to about 15 of these things over the last two years. The WRs just run sideline go routes as the QBs alternate throws. You can tell that Matt Barkley, the first true freshman to start the season in USC's history, is physically more impressive than the other quarterbacks.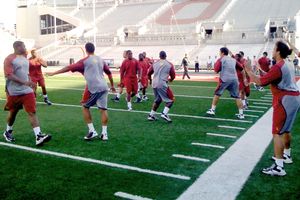 ESPN RadioI was open.
The d-line plays the o-line in a football version of ultimate frisbee, and one guy is running around with his shoes untied. There are two tight ends throwing the ball as hard as they can from about ten yards apart from one another. Every fifth throw almost hits someone on the sideline. It looks like the worst possible way you could prepare for a big game. There are more non-football people here than USC players and staff. I get the sense that no one would care if I grabbed a ball and started throwing. The one constant is energy. It's relaxed but the kids are having fun, and they are all real loose.
USC's stars all want to talk to Kirk Herbstreit. No one recognizes me. I blame our ESPN2 schedule.

8:37 p.m. - "You're Not That Cool"
Long day, still a lot of work to do. My Friday schedule is tougher this year with co-hosting the Scott Van Pelt Show. Every year in Columbus, Herbstreit has the ESPN crew over to his house. I'm not going to make it this year because there is seriously too much work to do. Last year, McShay and I were talking to Herbstreit and he asked us what we were doing after the game (Penn State-Ohio State). We both said, "Not sure," so Herbie asks us if we want to hang out with him afterwards. I can't answer fast enough. We exchange numbers, and literally two minutes after we say, "See you tomorrow after the game," one of his producers comes up to us and says, "He's not going to hang out with you," and walks away. It was like telling a kid there will be no presents at Christmas this year. The story is still referenced to this day by my friends. We will make plans and one guy will say, "Do you think Herbstreit will change his mind?"

11:49 p.m. - Forget Colorado
Toledo is housing the Buffs. It was probably official before the season started, but GameDay won't be going to Boulder. Probably good for Boulder.


---
Saturday, 9/12 - 10:30 a.m. - Step into the A.M.
Heading over to the GameDay set for television. I usually like to take about 30 minutes and watch the show from the GameDay bus, check out the crowd and relax before our seven-hour deal. Favorite sign: "Mark May, Sweet Glasses."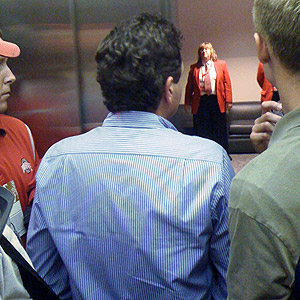 ESPN RadioThis is what a paparazzi photo of Jay Mariotti would look like if they had them.
6:45 p.m. - In Shock
The crowd is a decent size but I get the feeling that a lot of these Buckeye fans are scared. I have had fans ask me if a close loss would help the perception of Ohio State. It gets worse, as Michigan is driving for the game-winning touchdown against Notre Dame. Buckeye fans are cheering as they watch the game on the flat screens at our GameDay set. I ask, "What is wrong with you?" to a couple of guys and they say, "*%#$ you! ESPN lies!" Solid argument. The Big Ten ego is so battered that Buckeye fans are rooting for the Wolverines vs. Notre Dame.
7:55 p.m. - Script Ohio
Every time I see
this
, I get chills. It is awesome. Sidelines are packed with celebrities. Eric Dickerson, Cris Carter, Santonio Holmes, Greg Oden, Mike Conley, Optimus Prime, Vince Vaughn and Will Ferrell. One of the above is a lie.
9:12 p.m. - Young QBs
The storyline is how Matt Barkley will do in front of 106,000 fans. The attendance is a Horseshoe record. It is loud, but it is angry. Ohio State fans are sick of losing the big games, and hate that we on GameDay keep talking about it. The Ohio fans in the front row yell at everyone with an ESPN shirt. Even Lee Corso gets heckled.
Both QBs are inconsistent. Ohio State has led for the entire second and third quarters, and it looks like they will pull this one out. While the crowd goes crazy during a Trojans' timeout, the stadium starts playing the song "Seven Nation Army" by the White Stripes. The entire USC sideline starts jumping up and down and singing; I'm talking 70 to 80 guys dancing and smiling. The crowd notices after two or three minutes and starts booing like crazy. I'm standing right next to it and Jerry Jones isnt here to kick me out this week.
If USC loses this game, reactionary talk show host says that, "USC is too arrogant, they are not tough anymore and they can't finish the big games." Past-his-prime columnist writes, "Pete Carroll has lost control of his program."
Both are wrong. USC has gone 87-10 in its last 97 games with all losses by seven points or less. They win because they are arrogant and they have every right to be. They never think they are going to lose.
And they are right.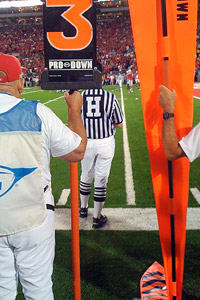 ESPN RadioDo you think these guys would mind moving?
11:30 p.m. - It's Over
Like watching a series of waves ruin your summer house, it was a raucous crowd turned quiet that knew there was no saving this game once USC converted on 3rd and 8. Stafon Johnson TD. 18-15, game blouses. I'm ten feet away from the corner of the end zone. Song Girls, "Fight On" and depression. Those are the only things you can hear right now.
I feel badly for the Ohio State fans. They really thought that the perception of their program and conference would change with a win. Instead, the Buckeyes are now 0-6 against top five teams in their last six games.
Side Note
Pete Carroll showed how relaxed he was at one point during the game. Before one play, he turned to Lee Corso on the sideline and said, "Watch this." It was supposed to be a trick play, but Ohio State called a timeout.
They showed Vince Vaughn on the big screen wearing his Ohio State gear and the Shoe went nuts before the 3rd and 8 play in the fourth quarter. He was looking at the camera and firing up the crowd just as USC converted. Apparently, Vince's rapid-fire game powers only work on B-level actresses, not on Joe McKnight.

11:45 p.m. - Will Ferrell
He is walking towards the USC locker room. I am right behind him and want to say "hello." I interviewed him in person a few years ago for a "Blades of Glory" promo. I really want to say "hi." I felt like we had a moment. I'm thinking something clever like, "Hey, do you still keep in touch with Kenny Loggins?" I decide not to. I'll save that for when I run into him at Nickelodeon Kids' Choice Awards.


---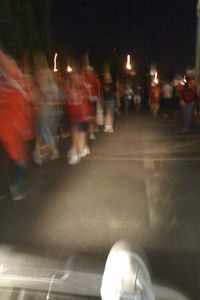 ESPN RadioDriving in the opposite direction of 106,000 people at light speed.
Sunday, 9/13 - 12:30 a.m.
After having to drive a golf cart against the grain of 100,000 angry Ohio State fans we make our way to a bar across the street. The kids are taking this one hard. One highlight of the night includes a kid watching the recap of the game and, as soon as he sees Mark May on the screen breaking it down, screams, "Oh great! Now I have to #$#%#$ watch Mark May all week telling me the Big Ten sucks!"
I laughed. Down at LSU, the kids get over losses faster.
3:30 a.m. - Has Anyone Ever Heard of a Taxi?
I have been waiting for a cab for two hours. The taxis will only pick you up here if you are a female wearing an Andy Katzenmoyer jersey and you have two pizza boxes.
I may never get home.
Fortunately, Ryen eventually made it back to Bristol in one piece. Got any questions or suggestions for the author? Please comment below and let us know what you think. Also, check out the Dallas edition of Russillo on the Road here.