Russillo on the Road: Provo
Updated:
October 28, 2009, 4:25 PM ET
By Ryen Russillo
The Scott Van Pelt Show on ESPN Radio
Russillo on the Road: Provo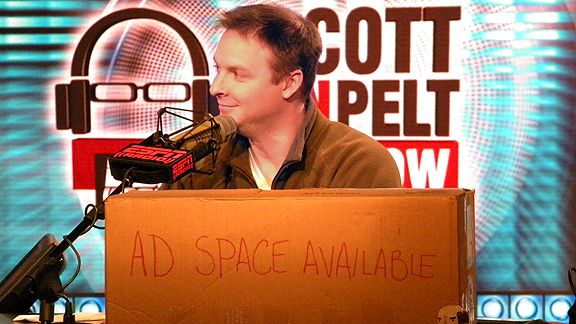 Ryen will gladly accept sponsorship for his travels.
As part of his responsibilities for "College GameDay on ESPN Radio," our own Ryen Russillo will be spending a lot of time on the road this fall. Ryen documents his trip to Provo in the third edition of Russillo on the Road.
This will be a two-part edition. Part I will be great. Part II will not.

"Been here since the sun went down.
Be here when it comes back around.
Worked all week, it's time to play.
Gonna get a little bit sideways."
-Dierks Bentley
Wednesday 10/21, 5:00 p.m. - On the Road
Just got out of work. I'm flying to Utah in the morning for TCU at BYU and am excited for it. I've never been to Utah. There is a slight detour before I fly out on Thursday, as I'm headed down to New York City for a Dierks Bentley concert at Madison Square Garden.
Quick facts
:
-I'm not a huge country music fan but I went to school with Dierks for a year. We were friends and then fell out of touch, but I dropped his name in as many country bars as I could as he became more famous. We were closer than he ever realized on many nights.
-I haven't gone out in a month, so tomorrow is going to hurt.
6:15 p.m. - Darren
I made the train into the city but just realized that I still have television makeup on. My buddy Darren is with me. He is really boring so I've got nothing to add here.
7:15 p.m. - Cowgirls
Walking into the Garden as us five UVM guys got our tickets. The girls are dressed like cowgirls who lack fathers to yell at them about their outfits. It's actually kind of funny that there are about 15,000 people walking around New York City that look like they got lost on their way to a rodeo.
[+] Enlarge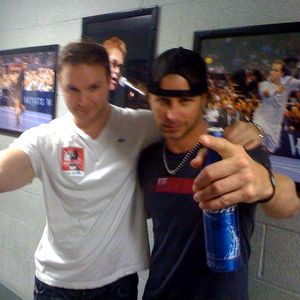 ESPN RadioI'm holding up a UNICEF box that you cant see.
8:00 p.m. - The Show
Dierks is really good. I never get to the point of playing air guitar or looking at another guy in the crowd to confirm that things are awesome with an aggressive head nod, but I'm enjoying the show.
10:04 p.m. - Backstage
This is the part I've been waiting for. We get the call to head backstage. It's a little earlier than I expected and dudes have been inhaling beers throughout the whole concert. The scene is pretty laid back: dark lighting with Kings of Leon playing in the background and maybe 20 people. One guy just poured a large Grey Goose and ice cubes because there are no mixers. This will be a mistake.
11:20 p.m. - Encore
Dierks gets the call to do a song with Brad Paisley, the final act. We are setup behind the stage watching the show. I have no idea what the song is but the eights in the crowd really seem to enjoy it. I'm coming back as a country singer in my next life. The talent is ridiculous and I'm not talking about the musicians.
Interesting Side Note
I actually went on stage when I wasn't supposed to during a Strange Folk concert in Philadelphia in 2002. I knew most of the band from my eight-year run in Burlington, Vermont. I was off to the right of the stage standing with the opening act watching the end of the show and the drummer waved to me to join the band. I was a little surprised because I can't play any instruments, but I walked onto the stage anyway. Shockingly, I was not the guy Strange Folk wanted to join the encore; apparently the band wanted the guitar player standing next to me to come out on the stage and play. After the show, the drummer asked me, "What the hell were you going to do when you got out there?" I have no idea to this day, but I feel confident that I would have made the most of it. There are people reading this who have no idea who Strange Folk is, but many of their listeners got into amateur gardening.
---
Thursday, 10/22 - 12:04 a.m. - Last Train
I would like to tell you more about being backstage but it really wasn't as crazy as people think it is. Catching up with Dierks was great. This was a kid that we played endless hours of NHL Hockey '93 with. He played with the Red Wings and used to say "dangle" 1,000 times per game. Then he told us he was moving to Nashville to follow his love of music and we laughed. Win Dierks.
Rushing to get the last train out of town, so I grab a hot dog on the way. It's my first one in six years since I was forced to enter a Nathan's Hot Dog eating contest in Boston for a radio promotion.
7:00 a.m. - Wow
I have to be on a plane in 90 minutes. I feel like death. I wake up in a position that looks like I got hit with a shotgun blast before I "fell" asleep. While gathering my stuff I realize that there is nothing worse than packing while hungover. I might as well light everything on fire because it would be easier.
Thanks to my GPS I am lost while driving to an airport that I've never been to before. GPS actually makes things more difficult sometimes because I never pay attention to where I am going now. I have to park my car on a lawn and can't wait until it is towed when I return.
11:12 a.m. - Seizure in Detroit
There is really no way to explain this, but there is a tunnel that contains a light and sound show in the Detroit airport that is supposed to be peaceful upon entering. However, it is having the reverse effect on me today. It is actually really scary.
Enjoy
.
3:30 p.m. - Mountain Time
I'm in Utah. The flight was alright and I have to take a shuttle to the hotel in Provo, which should be an hour away. I'm told it is a direct shot. That is a lie. We make two stops. I don't have a lot to offer right now. The conversation between three 70-year-old men is about how bad drinking is for you. I am dry heaving.
5:20 p.m. - Provo
Nap time.
11:58 p.m. - Wake Up
I have no idea what time it is. I could also possibly be wrong about the day. I need to get something to eat. Provo can't be that slow, can it?
---
[+] Enlarge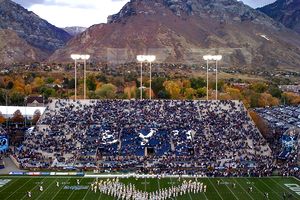 ESPN RadioThe most amazing backdrop in sports?
Friday, 10/23 - 12:40 a.m.
It is. There is nothing open to get something to eat. I bought a pizza that I have to cook in a microwave. Who still does this? Who cooks a pizza in a microwave when you still have a choice? It is like eating melted plastic.
8:30 a.m. - New Day
Time to put Thursday behind me. I'm heading over to the set to study for College GameDay and get ready for my show with Scott Van Pelt. I'm setup in a tent across the street from Lavell Edwards Stadium, a great location. This may be the most beautiful backdrop to any stadium in the country.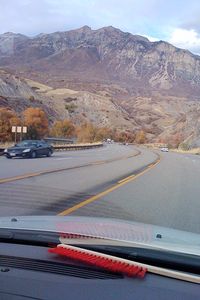 ESPN RadioOn our way to Sundance. I hope Problem Child 2 is playing.
5:30 p.m. - Dinner
Headed up to Sundance Restaurant in the mountains of Utah. This will be the closest I get to the Sundance Film Festival unless my ninja bounty hunter script gets picked up.
9:30 p.m. - Hotel Lobby
Staying in the same hotel as the TCU team. I can't believe I picked against these guys on the show today. Sometimes you assume the non-BCS teams are too small to play with the big boys. Not TCU. I was thinking of trying to steal some of the team food for later when I'm hungry and everything is closed, but I decide against it.
10:37 p.m. - Friday Night Lights
I decide to go for a walk. It is the night before the biggest game of the season and town is slow. BYU is not like other college campuses. On a Friday, I can count about 10 fields loaded with students playing intramural sports. Most schools wouldn't bother because no one would show up. When you are around this program you immediately realize it is different. The school has been the most gracious that I have ever dealt with for GameDay and the community is as kind of a group as I have ever come across. BYU stands for something bigger than most programs. Don't believe me? Check out the team's mission statement: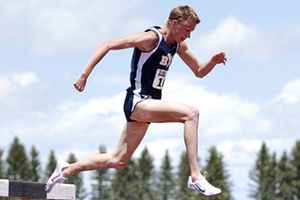 ESPN RadioI dont even think this guy was in a race.
"We will be the flag bearers of Brigham Young University through football excellence, embracing truth, tradition, virtue, and honor as a beacon to the world."
However, if you want to stay out until 3 a.m. and work it off the next day while tailgating this is not the place for you. I miss Dierks. There are lots of joggers out all of the time. I also feel guilty looking at any girls here. Not sure what that means.
---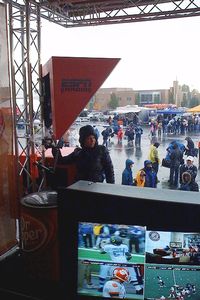 ESPN RadioWeather shutting us down 20 minutes early.
Saturday, 10/24 - 10:00 a.m. - GameDay
Cosmo the Cougar jumps up onto the GameDay set for television. That mascot has no idea how close it came to getting a Chris Fowler beat down. The next mascot that tries to do that will pay dearly. In the last three hours, it went from dark and warm to sunny, 40 degrees and now pouring rain.
5:40 p.m. - Kickoff
We end up with a good crowd, have to shut the show down 20 minutes early because of a lightning warning, head over to the stadium and watch pre-game. The sidelines are packed with fans, the most I have seen since Ohio State-USC last year, which is kind of surprising. Right before kickoff, 90 percent of the fans leave to go to their seats. No on asked them to, they just did. Honor system. Can you imagine how poorly this would work in other stadiums around the country?
7:40 p.m. - Ouch
This isn't going to be a game. TCU has a BCS-sized offensive line and they can just grind it out all night. The Horned Frogs end up winning 38-7. We leave at halftime, which makes me feel a little guilty, but we had to go watch all of the other top teams play. After changing our minds about who was the best in the country for a couple of hours, we head back to the hotel. I've got to be up at 4 a.m. Considering there is no chance I will be out in Provo all night, I like my chances of making the flight.
P.S.
I promise to bring it in Eugene next week.
Tune in next week for the Eugene edition of Russillo on the Road. Got any questions or suggestions for Ryen? Please comment below and let us know what you think.