Russillo on the Road: Tuscaloosa
Updated:
September 15, 2010, 8:35 PM ET
By Ryen Russillo
The Scott Van Pelt Show on ESPN Radio
Russillo on the Road: Tuscaloosa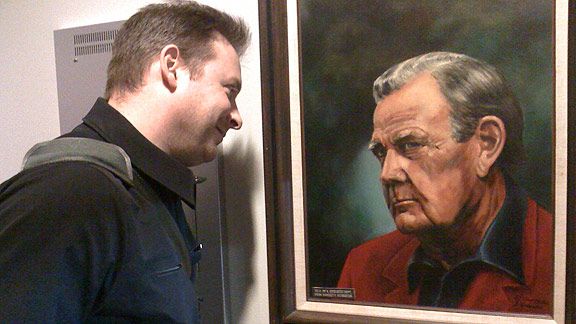 Ryen shares a moment with the "Bear."
As part of his responsibilities for College GameDay on ESPN Radio, our own Ryen Russillo will be spending a lot of time on the road again this fall. Ryen documents his trip to Tuscaloosa in the first edition of the second season of "Russillo on the Road."
Foreword
Year three of traveling for College GameDay on ESPN Radio and I'm fired up to head back down south to Tuscaloosa, Alabama this week. I have no real expectations for this year. I'm 35 now and can technically run for president, which is a good thing to have in my back pocket in case this ESPN thing doesn't work out. However, I'm afraid this season may not have the awkward situations of two seasons ago that led to me missing a ton of flights and that I never wrote about.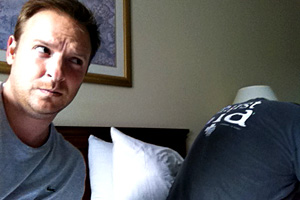 ESPN RadioThis is what two dudes thinking about sharing a bed looks like.
Thursday, 9/9 - 9:00 a.m.
I have a few "game changers" planned this year. I am always going to take out my garbage before I leave. Every good road trip starts with not letting meat rot in your kitchen. Nothing like the welcoming smell of five-day-old beef to let you know you have been missed.
11:11 a.m.
How many buddies do you have that are the "the stripper likes me" guy? I have a lot. During this flight, I'm getting the same vibe from one of the flight attendants. I'm sure of it.
11:13 a.m.
Forgot to mention, flight attendant is a dude. P-90X is so worth it.
Side note: I swear I carry a pheromone that attracts this stuff. When I lived in Boston, there was a hair dresser from Cuba that used to run down to the pool whenever I was out there. Maybe he was really into the BCS, maybe not. He did try to sell me a used bathing suit, but it didn't fit so I passed on the offer.
1:30 p.m.
Just landed in Birmingham, Alabama. I'm meeting up with Stanford Steve (producer of the show, played TE at Stanford, 6-5, 240, ran a 4.4 40 10 years ago) and we are actually driving to Starkville, Mississippi for ESPN's Thursday night game, Auburn-Mississippi State. I have never been to Starkville, and there is a really good chance I will never be back. I would like to be able to say I've been to every stadium in the SEC and this will make five out of 12.
2:45 p.m.
Lunch time. I'm craving some Chick-fil-A and am shocked that we haven't passed one yet. So far, the options are Subway or Waffle House every five miles.
2:49 p.m.
Waffle House option coming up. Keep driving.
2:51 p.m.
Another Waffle House.
2:58 p.m.
And yet another Waffle House. The company motto should be, 'We know you don't want to eat here but we will eventually wear you down and we will win.'
3:10 p.m.
We decide on Subway. I ask for provolone and the girl tells me, "We don't carry them fancy cheeses here." There is also a dude in here that is wearing overalls and no shoes. I want to take a picture so bad. I'm just afraid he is going to catch me and I'll have to tell him:
"Oh, don't worry, man. I'm not into you, I just want to take a picture of your outfit so I can make fun of it in my travel blog. Say double wide!"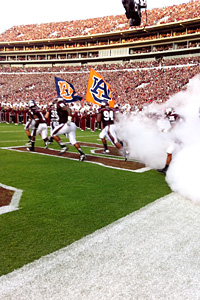 ESPN RadioThe smoke always lets the opponent know you mean business.
5:00 p.m.
Check in and we are an hour from kickoff. We were originally supposed to be going with Doug Gottlieb, but he has three kids, is a great dad and his plans change a lot of the time, so he couldn't make this trip. He booked the room and we have a major problem:
Two dudes. One bed.
5:01 p.m.
Instant depression. I can't believe this and just think about how it was supposed to be three of us. What was the plan there? I stopped sleeping on floors by the age of 25. The girl at the counter, sweet kid, tells us, "Y'all be so drunk by 11:00 it won't matter." No offense, darling, but there ain't enough booze in Mississippi.
5:10 p.m.
I know I shouldn't be this bummed out, but I am. Steve and I are just looking at each other. He is trying to build a bed with a desk chair and an ironing board and it isn't working. We are cursing Gottlieb up and down.
5:20 p.m.
Redemption! The girls from the front desk call to say there has been a cancellation and they can switch us to a two-bed room. I shouldn't be this happy because I am at a Holiday Inn in Starkville, but screw it, I'm minutes from SEC football.
5:40 p.m.
Heading over to Little Dewey's BBQ, Kirk Herbstreit's favorite place on the road. We take a cab and arrange for the guy to pick us up after we eat and take us to the game.
6:00 p.m.
Food was great. Squirrel is better than I thought it would be.
6:10 p.m.
Heading over to Davis Wade Stadium. We are trying to find the will call window. This is harder than you think. A few things about the South:
1. A three can turn into a six with a sun dress, a twang in the voice and some Old Crow.
2. Smokeless apparently is good for you.
3. I can't tell if I'm being ridiculed or complimented when I talk to Southerners, but I think you sure do make me feel appreciated.
But y'all suck at giving directions. Let's put it this way: if I was standing near a ladder, I wouldn't ask someone from the South which way is up.
6:20 p.m.
This is unreal: four different people, four different theories on where will call is.
6:25 p.m.
Will call. Sweet, no tickets under my name. Flew down from Hartford to stand outside a stadium and sweat all night. Couldn't be angrier. At this point, I'm just looking at one of the 12 ticket people who claim there are no passes for us. I'm thinking of texting coach Mullen but I'm sure he's dealing with a third and long right now.
6:30 p.m.
It's magic: the tickets are here under Gottlieb's name. No idea why. So far, Mississippi is a string of fake jams.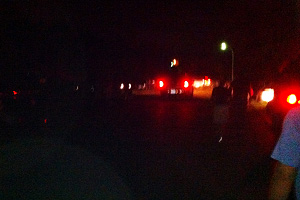 ESPN RadioWhy are we lost? Ask the South. Wait, don't.
7:20 p.m.
More Cowbell. Great atmosphere as expected. The place is smaller than some of the big-boy stadiums, just over 50,000 in attendance, but it sounds louder because of all of the fans. I mean, every single one of them is shaking a cowbell. That's Mississippi State's thing, everyone rings a cowbell all the time. I guess the SEC tried to tone it down by saying the school will be fined if it rings the bells at inappropriate times. The warnings don't seem to be working so far. It's telling.
8:20 p.m.
The SEC is the best conference in college football, no debate, but I can understand the arguments against the QBs. As great as some of these athletes are playing the position, a third and seven is more difficult to deal with than naming all your children is for Antonio Cromartie.
Mississippi State has some studs on defense, but they cannot move the ball. Auburn's offense isn't much better but Cam Newton (who was originally at Florida) is a beast. He is about 6-6, 250, and you go backwards when he wants to hit you on a QB keeper.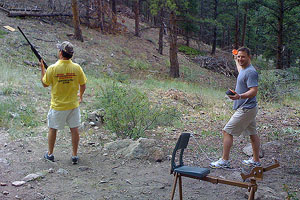 ESPN RadioThis has nothing to do with Tuscaloosa, but will it remain here?
9:15 p.m.
17-14 Auburn. Final. State fans are bummed because they thought they had a chance for exposure in an ESPN game, but they have issues at QB and probably won't be any better than third in the SEC West at best. At least it wasn't a repeat of the 3-2 gem from 2008.
9:45 p.m.
We are lost again. No way. The walk from campus to the "Cotton District" is supposed to be about 10 minutes, but we add 10 more for every person we ask for directions.
10:04 p.m.
We finally make it. We are headed into one of the four bars that make up one of the smallest "downtowns" I've ever seen. You could throw a blanket over it.
10:39 p.m.
A few minutes into it, we start talking about what it must be like to be really famous and come to a town like this. Beano Cook can't just sit down in Mississippi and order a beer. Between the camera phones and co-eds, Beano would be mobbed.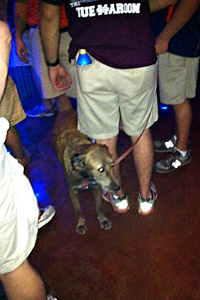 ESPN RadioWallet? Check. Ironic T-shirt? Check. Dog? Check.
11:09 p.m.
No one recognizes me. This place Tabbs doesn't even realize that they have a celebrity in the house. I mean, both Mardy Gilyard and Kris Jenkins thought I was Van Pelt, but I can't get one kid to ask me about his fantasy lineup? It is really hot here, man. Dudes are wrecked, girls are loud and I'm probably getting a little too old (I am definitely too old, but it's for the blog).
12:13 a.m.
Cool, dog guy is here. Nothing says college like bringing your dog to a bar. I'll just guess that his jeep with lacrosse sticks is outside.
12:44 a.m.
We can't get a cab. Shocker, there are none in these small college towns in the South. It is always a problem after a game. Of course, the guy we used earlier has a phone that is now disconnected. A situation like this led to me getting kidnapped in Tuscaloosa a couple of years ago, and I refuse to be kidnapped again.
1:00 a.m.
Some lady asks us what we are doing and we say getting ready to walk back to our hotel. She actually gives us a ride, won't take any money and couldn't be nicer. I did look through her stuff in the back for kidnapping equipment. I saw none.
1:20 a.m.
Two beds. So excited that I don't have to sleep with a dude. A guy in the elevator with us was holding two cans of Natty Ice and a Big Mac. My guess is he isn't going to get up early and go for a run.
---
Friday, 9/10 - 9:20 a.m.
We've got over an hour drive back to Tuscaloosa and kill the time by trying to think of the best smokeless names that would be available for purchase in this part of the South. We came up with:
Ole' Squirrel
Hamster
Elk, Bark Cut
11:30 a.m.
We are on campus. I'm doing the SVP Show from location. The great thing about the setup is we get access to a golf cart to drive around campus. Stanford Steve and I are heading to grab some food before the show. A few things about Steve:
1. He waits for no one.
2. He isn't in your way, you are always in his way.
3. He drives a golf cart like Elwood Blues.
We make a turn in a parking lot that is in the opposite direction of traffic and, as we come around a corner, two girls have a heart attack as they slam on their brakes. Steve says nothing. I mention it to him a few minutes later. "Did you see those two girls' faces in that car?" He replies, "Yep," and keeps on driving.
3:00 p.m.
Show is over and we are invited to a fancy dinner at the Tuscaloosa Yacht Club. I know that sounds weird, but I guess you can have yachts on a lake. The problem is that we are all sweating like crazy and need to change.
5:22 p.m.
We get hooked up with a place to shower at the training facility on campus. Really nice of the staff to hook us up like that. Stoops would probably offer us a hose and talcum powder.
5:30 p.m.
Problem: we don't have any towels. We get a couple of GameDay towels that are the size of a pocket square.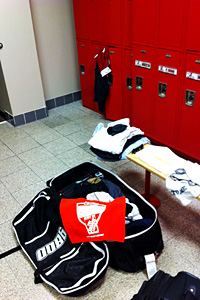 ESPN RadioHow do you ask a co-worker to take a picture of you naked?
5:44 p.m.
Steve is showering first (I'm talking about Steve a lot in this first edition of "Russillo on the Road"). I start studying and all I'm wearing is a towel. It's covering everything up and I ponder taking a picture for the blog to show the readers how dedicated I am. Steve and I discuss it. It's a short conversation. He has just told me, "I'm not taking a picture of you reading Pat Forde's latest article wearing a towel."
5:58 p.m.
I'm finishing up in this small locker room and one of the football coaches walks in, notices that all of my stuff is in front of his locker and looks thrilled with me. I'm also using a used Gatorade towel we found.
A thought about towels: I don't like "clean towel guy." Sure, it would be great if we all had clean towels on a daily basis, but you've got to adjust sometimes. There could be an argument made that I wasn't aware people washed them from the ages of 18 to 21.
7:10 p.m.
We are at the Tuscaloosa Yacht Club and this is a big deal with a lot of important people and me. Great dinner and better conversation. I could listen to Brent Musburger tell stories all night. Think about how much this guy has seen and he almost knows my name.
10:22 p.m.
Back at the hotel in Birmingham. This is tough because when we stay away from campus (an hour away in this case), it just adds a lot of time to the work day. I'm happy to get some sleep. I still have only gone out once on Friday before a show, which was in Austin last year when I had buddies in town. I also did it when I was in Lubbock two years ago, but it doesn't count because it was Halloween night and I was dressed as a designated driver.
12:22 a.m.
I cannot fall asleep. I'm watching a Stephen Hawking interview on Larry King and am annoyed because I can't understand what they are talking about. Is there no God? Is that what Hawking is saying? If that is true, do I have tomorrow off now?
---
Saturday, 9/11 - 7:20 a.m.
GameDay. I start the day with a run. I am an absolute meathead when it comes to running on a treadmill. I set the thing at 6/8/10/11 and then as fast as it goes until I stop breathing. Then I repeat intervals (write this stuff down, kids) until I'm afraid I'm going to fall off and break something. There is a pretty good chance I will really hurt myself this way one day. People are looking on in horror. I am also listening to Rick Ross. I'm ashamed to admit it, but his beats are great. Too bad he can't rap. I think I would pay $1,000 for a night out with him and his crew. They should actually do this: rappers have 'white guy lives out his gangster rapper fantasy night.' I would definitely do it once.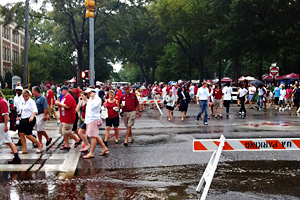 ESPN Radio98 degrees in the rain.
2:20 p.m.
A few hours into the show and we are getting some weather. We have a great crowd, the headline games are duds and there is a chance we will have to go off the air because of lightning.
4:00 p.m.
We are now running to shelter and throw the show back to Freddie Coleman and Mel Kiper Jr. in Bristol to take over. This has only happened once before during my run on the show, and that was last year in Utah. The material of the stage is aluminum (I think), so it makes sense.
4:44 p.m.
We are hanging out in one of the buildings on campus watching Michigan-Notre Dame, Miami-Ohio State and Florida State get killed by Oklahoma. My personal highlight is the girl in this office with us who starts emptying her purse, places a pint of Jim Beam on the floor, looks around and puts it back in her bag after making a drink. I don't know if she is a student, but hey, it's Saturday in Alabama.
6:05 p.m.
Show is over, got back on the air to finish the big games. Side note: the Denard Robinson TD on the final drive cost me a trip to go see Notre Dame at Michigan State in East Lansing next week. We may be headed to Lubbock now. I loved Lubbock, love Texas, but the only other time I was there was when Tech knocked off No. 1 Texas. There is no way that night can be matched.
It's like when you go back to your college town years after you graduated. Guess what? People don't want to let you into their bar at 3 a.m. because you used to do it 12 years ago. Though, it's a lock that guys who still live in the town they went to college in are some of the most miserable people on the face of the Earth. Seemed like a good idea during those first few years after school when the rest of us were commuting from Jersey, but how are you feeling about it now?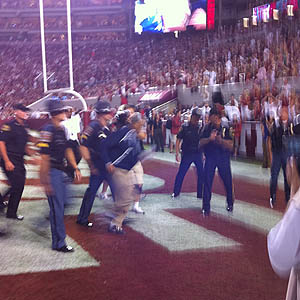 ESPN RadioJoePa hasn't lost a step. Too fast for human eyes.
6:30 p.m.
Penn State has no chance. This place (Bryant-Denny Stadium) is rocking. We are on the sidelines and I feel pretty honored to be this close to such a historic place. Trent Richardson, who is known as "MFBATR" down here, is running all over everyone. He should be in the next "X-Men" movie. His character could be 'the guy you can't tackle guy.'
8:49 p.m.
Rob Bolden is a true freshman trying to get his team back into this game in front of over 102,000 people. The crowd actually isn't as loud as it was earlier. Bama fans are very confident in their team and they should be. After watching them this close, I can't imagine another team out there being as good. Doesn't mean they will go undefeated in the SEC regular season for a third-straight year, but they will be favored in any game they play.
9:20 p.m.
24-3 final. It could have been worse, but remember that Bama was without its best offensive and defensive players (Ingram and Dareus). No one thought it would matter and it didn't. How many teams would dominate another ranked program without their two best players?
11:20 p.m.
Back at the hotel. I feel guilty about not giving you (the reader) more stories of immaturity, but the key tonight was getting out of Tuscaloosa in front of a four-hour traffic jam and making my 5:00 a.m. flight tomorrow. As much as I love SEC country, I'm going to be stuck here until Tuesday if I miss my flight and I can only eat so much Waffle House.
Stay tuned for the next edition of "Russillo on the Road." Got any questions or suggestions for Ryen? Please comment below and let us know what you think.