This Texas Caviar recipe comes recommended to us from an ESPN Radio staffer. A true party favorite!

[+] Enlarge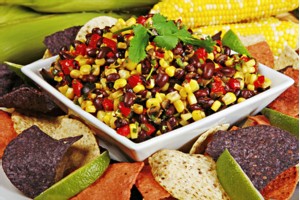 Thinkstockphotos.comMmm, this looks good. Dig in!
Texas Caviar
1 can black beans (15.5 oz)
1 can black eye peas (15.5 oz)
1 can white shoepeg corn (make sure to use white shoepeg -- other corn types will swell in marinade)
3-4 Tbsp Jalapeno peppers (diced)
1 jar diced pimentos (4 oz.)
1 cup chopped red onion

Marinade:
1 cup canola oil
1/2 cup cider vinegar
3/4 cup sugar
Steps:
1) Drain and rinse beans, peas and corn.
2) Mix together in in large bowl with peppers, pimentos and onion.
3) Heat ingredients for marinade just until it starts to boil and let cool.
4) Pour cooled marinade over all the other ingredients.
5) Cover bowl and refrigerate overnight.
6) After 7 or more hours, drain off marinade.
Store caviar in a sealed container and serve with some good tortilla chips for dipping. Enjoy!
EXPERT PICKS FOR SUPER BOWL XLIX
Greenberg

23-16

Golic

27-21

Cowherd

23-17

Van Pelt

Russillo

-2.5

Le Batard

Tortoise

Stugotz

Hare

Sedano

24-21

Schlereth

27-23

Coleman

Nowkhah

34-27

Kiper

24-20