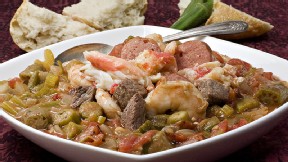 AP Photo/Larry CroweCelebrate New Orleans with some gumbo!
Get into the New Orleans spirit and bring a dish of gumbo to your Super Bowl party. It may not be quite as good as Morton's executive chef Ben Raphael's, but it should still be a clear party favorite. Click the link below to read more and get the recipe.
New Orleans Gumbo
3 tablespoons fat
2 1/2 cups okra, sliced
1 large onion, chopped
2 tablespoons flour
1 teaspoon salt
1 green pepper, chopped
2 bay leaves
2 sprigs parsley
1 teaspoon thyme
1 can tomato sauce (8 oz.)
1 cup shrimp, cleaned
1 cup crab, picked over
1 pint small oysters with liquor
2 quarts hot water

Steps:
1) Melt fat.
2) Add okra and onion and fry until soft.
3) Sprinkle with flour and salt.
4) Mix well.
5) Add green pepper, bay leaves, parsley, thyme, tomato sauce, shrimp, crab, oysters with liquor, and hot water.
6) Mix well and cook slowly for 1 hour. Gumbo will be thick and dark.
7) Serve in bowl with cooked rice.
8) Enjoy!
EXPERT PICKS FOR SUPER BOWL XLIX
Greenberg

23-16

Golic

27-21

Cowherd

23-17

Van Pelt

Russillo

-2.5

Le Batard

Tortoise

Stugotz

Hare

Sedano

24-21

Schlereth

27-23

Coleman

Nowkhah

34-27

Kiper

24-20