Commentary
Clijsters' swan song starts with win
NEW YORK -- Kim Clijsters is only 29, which seems too young to be retiring, much less for the second time. But tennis is a grind made for teenagers, requiring youthful bones for relentless pounding and a tolerance for constant travel, even when enthusiasm for it wanes.
Clijsters laughs about how things have changed for her, about getting in line to see a postmatch physio and joking that the 16-year-olds had better not try to cut the line. About wanting to play like Steffi Graf, but seeing the game change as she came of age. About trying to balance her own desire to compete on the world stage against the charming pull of her toddler's smile.
"I mean, the first few years when you came on tour it's like everything is, like, amazing," Clijsters said. "It's like going to Disneyland as a 5-year-old."
[+] Enlarge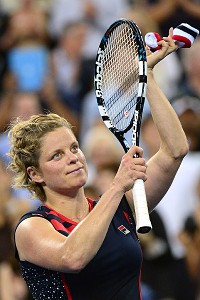 Emmanuel Dunand/AFP/GettyImagesKim Clijsters acknowledges the fans after her straight-sets victory Monday.
Even her analogies betray her resolve. This U.S. Open will be her last tournament.
On Monday night the Belgian, a three-time champion here, stepped into the damp Queens air with tennis racket in hand as the opening act on the first night of the U.S. Open. The air above the Arthur Ashe Stadium court was still smoky from the fireworks of a gaudy opening spectacle.
Clijsters won her 22nd consecutive match on the blue Open courts with a 6-3, 6-1 win against Victoria Duval, an American wild card.
Will Clijsters really retire this time? One reporter asked if this could be another break, like the one she took after having her daughter, Jada, in 2009. Or if it's the travel, perhaps she could play in a limited capacity.
Clijsters quipped: "Are you sending me out on the senior tour already?"
Clijsters joined the WTA Tour in 1997. It was the year Martina Hingis defeated Venus Williams in straight sets for her third career Grand Slam title. But Hingis would not go on to be like Graf. Instead, serves would get faster, and power would soon dominate the cagey angles that a player like Hingis was so good at creating.
"I think I have gone through a few different generations," Clijsters said."I feel very lucky that I have been able to be a part of a big generation where Venus and Serena [Williams] kind of raised women's tennis to a completely different level. So it's been an absolute honor to be a part of that."
Clijsters won her first U.S. Open in 2005, a sunny presence who had ended her engagement to Australian player Lleyton Hewitt. She had a chilly rivalry with fellow Belgian Justine Henin, two women from a small country who never seemed to bond over what they had in common.
But her most meaningful contribution came not from these modest entanglements but from more enduring ties.
In 2008, Clijsters became a mother.
It is a milestone that traditionally heralds the end of a tennis player's career, and it certainly took Clijsters out of the game. The exit path was well-worn, but Clijsters didn't take it to its end. Instead, she announced her return to tennis in March 2009 and, in her third tournament back, won the U.S. Open.
It was a small and revolutionary act. There are women the world over who engage in the same dance and wonder whether somehow they give up being truly excellent at one thing to be pretty good at several. And there was Clijsters, who literally held her U.S. Open Trophy in victory as her beaming daughter rushed to bask in the moment with her mother.
To see her interact with Jada on Ashe that night was to see a woman who had managed to be excellent at both simultaneously.
But maybe not forever.
In 2010, Clijsters again won the U.S. Open, and in 2011, she won the Australian. For more than two years she balanced tennis and her family, and increasingly battled the injuries that affect tennis players.
It has been quite a second act, but Clijsters wants to expand her family with her husband, Brian Lynch, a former professional basketball player. Might there be a third?
"No," Clijsters said, smiling. "No."
But even as she celebrated a first-round win, her coach Carl Maes was quickly exiting the player box to go scout the two women Clijsters could play next. Both player and coach, of course, are still on the job.
Reporter & Columnist, espnW.com
Jane McManus (
follow her @janesports on Twitter
) has covered sports since 1998 and began covering football just before Brett Favre's stint with the Jets. Her work has appeared in Newsday, USA Today, The Journal News and The New York Times.
U.S. Open 2012 -- Aug. 27-Sept. 9

2011 champions
Women's singles:
Samantha Stosur
Men's singles:
Novak Djokovic
Women's doubles:
Liezel Huber and Lisa Raymond
Men's doubles:
Jurgen Melzer and Philipp Petzschner
Mixed doubles:
Melanie Oudin and Jack Sock
CourtCast
Slam Central »
Follow us on Twitter »
Watch on ESPN
U.S. Open website »
Day 15
Day 14
Day 13
Day 12
Day 11
Day 10
Day 9
Day 8
More