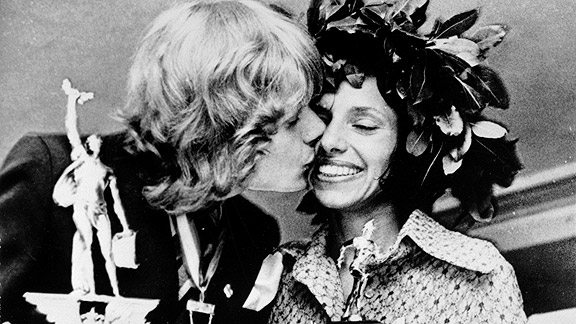 AP Photo
Women enter Boston Marathon
If you peered hard enough, the starting mob of the 1972 Boston Marathon looked different. Sprinkled among the 1,081 men were nine women, the first to officially enter in the event. Technically, though, they weren't the first to participate. In 1966, Roberta Gibb ran, but without an official race number. The next year, Katherine Switzer did, too, in disguise; unamused race officials tried, unsuccessfully, to remove her from the course. For the record, Nina Kuscik (pictured, on the right) was the first winner of the women's division.
Congress passes Title IX
Growing the Game
There are 817,073 girls participating in high school sports in the U.S.

"No person in the United States shall, on the basis of sex, be excluded from participation in, be denied the benefits of, or be subjected to discrimination under any education program or activity receiving federal financial assistance." When President Richard Nixon signed Title IX of the Education Amendments on June 23, about 31,000 women played college sports; spending on athletic scholarships for them was less than $100,000, and the average number of women's teams per school was 2.1. Sports were never the target of the law, but its reach would have a dramatic impact going forward.
Immaculata basketball births a dynasty
Torch Tracker
Archery is added to
the Olympics.

Before Texas and Tennessee and UConn, there was Immaculata College. The Mighty Macs of Pennsylvania won three straight national AIAW basketball titles from 1972-74. Title No. 1, a 52-48 win over West Chester State, was the first official women's championship. Immaculata's center, Theresa Shank Grentz, later coached the 1992 U.S. women to an Olympic bronze medal. The Macs' other star, Marianne Crawford Stanley, later coached Old Dominion to its own championship hat trick. And Immactulata head coach Cathy Rush was inducted into the Basketball Hall of Fame in 2008. Her career record was 149-15.
Billie Jean King is Sportswoman of the Year
In 1972, Sports Illustrated's Sportsman of the Year, John Wooden, only got half the cover. The other half belonged to Billie Jean King, the first Sportswoman of the Year. King won three Grand Slams -- Wimbledon and the French and U.S. Opens -- to earn the honor. Seven times since King's star turn, women have received SI's year-end nod: 1976 (Chris Evert), 1983 (Mary Decker), 1984 (Mary Lou Retton), 1987 (Judi Brown King and Patty Sheehan), 1994 (Bonnie Blair), 1999 (U.S. women's soccer team) and 2011 (Pat Summitt).
---
Editor's note: When we set out to build a timeline of the past 40 years of women's sports -- a daunting task, for sure -- we asked ourselves two questions: What mattered most? and Who must be remembered? In the pages that follow, you'll see our answers, dozens upon dozens of people and events, not just from here in the U.S., but from around the world. From Lisa Leslie to Little Leaguers, lady refs to lady wrestlers, our team of researchers hunted down firsts, records and landmark events since Title IX's inception. The result is a collection of moments and milestones that ultimately blend into a clear and colorful portrait of progress.
Timeline contributors: Susan Banning, Amy Brachmann, Dale Brauner, Jason Catania, Luke Cyphers, Kate Fagan, Yang-Yi Goh, Jeff Gold, Hallie Grossman, Lizzie Haldane, Kali Hodges, Hillary London, Abigail Lorge, Ross Marrinson, Gueorgui Milkov, Scott T. Miller, Doug Mittler, Amy Parlapiano, Rachel Ullrich and Rhett Umphress.
We want to hear from you: What is your favorite women's sports moment of the past 40 years? What did we miss? Share your thoughts below.