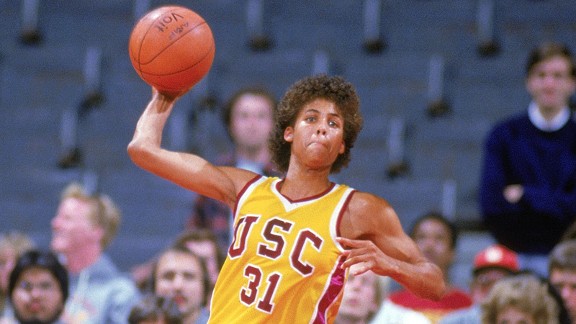 Rick Stewart/Getty Images
Cheryl Miller goes off
Already renowned in the prep basketball world, Cheryl Miller became a household name after scoring a girls' high school-record 105 points in Riverside Poly's 179-15 thrashing of undermanned and overwhelmed Riverside Norte Vista on Jan. 26. Miller made 46 of 50 shots, dropped 13 of 15 free throws and, by one account, may have landed a dunk as well. "Everything I tossed up was going in," recalls Miller. Her coach, Floyd Evans, was criticized in many circles for running up the score, and her school called off a scheduled rematch. Miller (pictured in college) went on to a Hall of Fame career at USC.
Louisiana Tech reigns over first women's March Madness
Growing the Game
There are 6.6 women's varsity teams per
U.S. college.

For almost a decade, the Association for Intercollegiate Athletics for Women governed women's college athletics and administered its national championships. But beginning with the 1981-82 academic year, its role began to be usurped by the NCAA, which had previously been interested only in running the men's games. And that meant introducing March Madness: Women's Edition. The inaugural 32-team field was trumped by Louisiana Tech, which had won the AIAW title the season before, this time defeating Cheyney State, 76-62, in front of 9,531 in Norfolk, Va. Kim Mulkey, who would become the only woman to win NCAA championships as a player, assistant and head coach, had seven assists for the Lady Techsters.