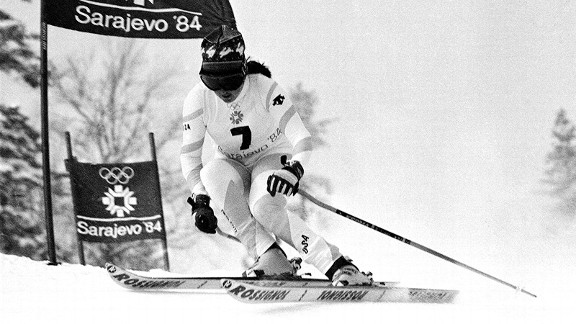 AP Photo
Tamara McKinney is first American female skier to win World Cup
In three previous World Cup seasons, McKinney finished 14th, sixth and ninth. That was about par for the courses; no American woman had ever finished higher than third. But in her fourth season, McKinney (left) flipped expectations. The Squaw Valley native ruled the slopes, placing first in the giant slalom, second in the slalom and sixth in the combined event. And when the powder settled, McKinney had won the overall. She retired in 1990 with 10 national titles and three World Cup discipline titles.
AIAW is dissolved
The NCAA decided in 1981 to take an interest in women's sports, and for a brief time it coexisted with the Association for Intercollegiate Athletics for Women as alternative governing bodies. Make that very brief. The NCAA quickly showed it was not much of a sharer, and after a controversial and contentious antitrust battle was lost, the AIAW ceased operations in June.
Female politicians fight for equal gym rights
Did You Know?
"Heart Like a Wheel," the Shirley Muldowney story, hits theaters.

According to Women's Sports and Fitness magazine, 82 percent of high-ranking women in Washington played sports when they were young. But for a long time, once they got inside the Beltway, it was hard for them to even find a place to work up a sweat. With the Congressional gym off-limits, the women were relegated to a tiny room that Sen. Barbara Boxer (then a member of the House) said had nothing but "some hairdryers and a ping-pong table." In 1983, the women lawmakers demanded the integration of the House gym. "I knew I would be kicking open some doors," Boxer said. "I just never thought that one of them would lead to the men's gym."