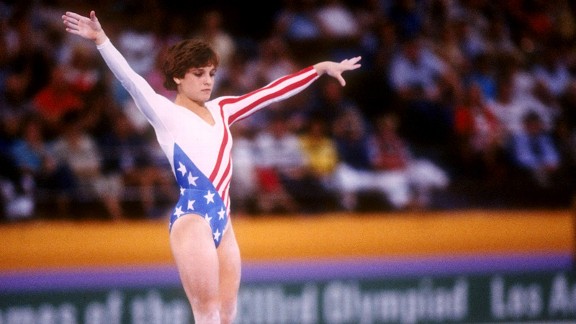 Steve Powell/Getty Images
Mary Lou Retton conquers L.A.
Torch Tracker
Women's cycling, heptathlon, synchronized swimming, rhythmic gymnastics and marathon are added to the Olympics.

Mary Lou Retton (left) had quite the summer vacation. The 16-year-old was the first American woman to snag an all-around gold in gymnastics at the Los Angeles Summer Olympics. She also won two silvers (vault and team competition) and a couple of bronzes (floor exercise and uneven bars). The five medals were the most for any athlete who competed in Los Angeles. Did Retton's performance come with an asterisk, due to the Soviet bloc boycott? Perhaps. Did anyone in America care? Not at all. For her patriotism, Retton became SI's co-Sportsperson of the Year, the first woman on the cover of a Wheaties box and this country's unofficial Girl You Wish Your Son Could Take to the Prom.
Supreme Court weakens Title IX
In Grove City College v. Bell, a 7-2 decision denied the law's application to any part of an institution that does not directly receive federal funds, such as a college athletic department. This significantly narrowed the scope of Title IX to the point where it had no impact on sports at all.
Georgeann Wells dunks in a game
Growing the Game
There are 1.7 million girls participating in high school sports in the U.S.

Until Dec. 21, 1984, dunking was assumed to be an exclusive (read: male-only) activity. Then 6-foot-7 West Virginia center Georgeann Wells snuck behind the Charleston defense, Lisa Ribble led her perfectly with a long pass and, a couple of uncontested strides later, the rim and gym were rocking. Well, the rim was anyway. It's unlikely the 100 or so fans in attendance made the rafters shake. Wells threw another one down eight days later against Xavier.
Victoria Roche plays in the Little League World Series
Girls had been welcomed into Little League Baseball since 1974. But until Victoria Roche, a 12-year-old from Belgium, stepped to the plate as a pinch-hitter in the fifth inning against a team from British Columbia on Aug. 21, no female had ever participated in the Little League World Series. Roche walked and then finished the game in center field, alongside her brother, Jeremy, who took over in right. Brussels lost, 3-0.
Cyclist Connie Carpenter completes Olympic double
Connie Carpenter won the gold in the initial 50-mile Olympic cycling race, but just by getting on her bike, Carpenter had already made history. In 1972, she finished seventh in the 1,500-meter speed skating event in Sapporo. No woman before her had competed in both the Winter and Summer Games.
McCormicks are mother-daughter medal winners
Kelly McCormick won a silver in springboard at the Summer Olympics. It's a nice accomplishment, of course, but nothing new. And yet that silver caused quite a splash. Decades earlier, Kelly's mom, Pat, won some Olympic diving medals of her own -- four golds, to be exact. Kelly's silver made the McCormicks the only mother-daughter medalists in history.