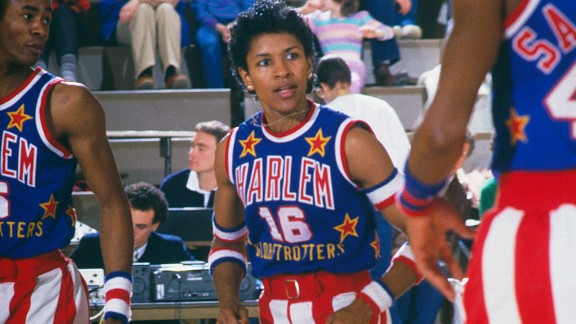 Focus on Sport/Getty Images
Lynette Woodard hoops it up
with the Harlem Globetrotters
When she graduated from Kansas in 1981, Lynette Woodard was on a very short list of the best female ballers ever. She was, after all, a four-time All-American, the NCAA's all-time leading scorer (3,649 points) and a Wade Trophy winner. When Woodard returned to the game, though, it was as a member of an even shorter list: female Harlem Globetrotters. That list was empty, in fact, until Woodard (left) suited up with the clown princes of the court. Since then, eight other women have worn the Trotters' stars and stripes. Woodard was inducted into the Naismith Memorial Basketball Hall of Fame in 2004.
Basketball Hall of Fame goes coed
About 150 men had been inducted into the Hall of Fame by the time the first three women got the call. Senda Berenson Abbott, nicknamed the "Mother of Women's Basketball," taught the sport to her female P.E. classes at Smith College in the 1890s and authored the "Basketball Guide for Women" in 1901. Bertha Teague, who was known as "Mrs. Basketball of Oklahoma" compiled a 1,157-115 record as coach at Byng High School in Ada, Okla., including three coach of the decade titles. And Margaret Wade coached Delta State to a 93-4 record and three straight AIAW titles in 1975-77, immediately after the program's 41-year dormancy. The first women players weren't inducted until 1992: Nera White, a 10-time AAU most valuable player in the 1950s and 1960s, and Lusia Harris-Stewart, a three-time All-American at Delta State and a member of the first U.S. Olympic women's basketball team in 1976.
Libby Riddles wins Iditarod
Sure, women had competed in the Iditarod before, but none had won "The Last Great Race" until Libby Riddles braved a blizzard other mushers didn't dare fight through. The exploits of the 28-year-old Wisconsin native, who pulled into Nome five hours ahead of the next finisher, captivated the attention of America's lower 48. She graced magazine covers and was showered with awards, including the Women's Sports Foundation's Sportswoman of the Year. Riddles' win was the first of four straight by women; Susan Butcher took the next three.
Patricia Cooksey rides in Preakness
Cooksey, whom a year earlier was the second woman to ride in the Kentucky Derby, finished sixth aboard Tejawa.
Michelle Akers scores for U.S. women's soccer
The debut of the U.S. women's soccer team was a 1-0 loss to Italy. But three days later, on Aug. 21, Michelle Akers, a 5-foot-10 powerhouse, announced both her and her squad's arrival with the first goal in team history. The game with Denmark ended in a 2-2 draw, but a message had been sent. Akers, a four-time All-American at Central Florida, retired in 2000 with 153 caps. Her 105 goals are fourth on the country's scoring list, behind Mia Hamm, Abby Wambach and Kristine Lilly.