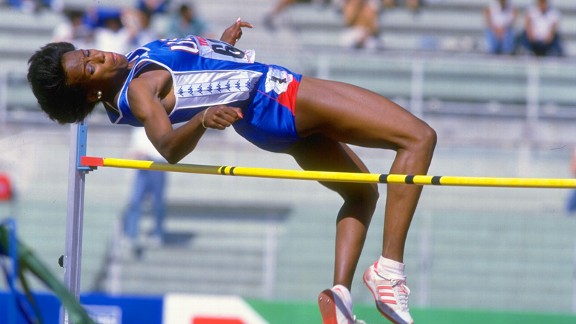 Tony Duffy/Getty Images
Jackie Joyner-Kersee breaks
7,000 in the heptathlon
Who is the greatest female athlete ever? Many will answer Jackie Joyner-Kersee. Among her many achievements, Joyner-Kersee (left) was the first person ever -- male or female -- to break the heptathlon's 7,000-point mark. On July 7, her 7,148 points at the Goodwill Games surpassed the previous record by 202. Later that year, she was the recipient of the James E. Sullivan Memorial Award as the top amateur athlete in the U.S. She'd go on to break her heptathlon mark with 7,291 points at the 1988 Summer Olympics, a record that still stands. Also still standing? Joyner-Kersee's six Olympic medals in heptathlon and long jump (including three golds), four world outdoor championship titles and Sports Illustrated's honor as the greatest female athlete of the 20th century.
Anita DeFrantz is named member of IOC
Did You Know?
Texas is the first NCAA women's basketball team to go undefeated.

She rose from humble beginnings to captain the women's eight scull to a bronze in the 1976 Summer Olympics. She made an even more lasting mark once she hung up her oars. Soon after retiring, Anita DeFrantz became the first African-American -- and first American woman -- named to the 93-member International Olympic Committee. Eleven years later, she would be appointed the first female vice president of the IOC's executive committee.
Nancy Lieberman plays in a pro men's basketball league
Nancy Lieberman was in a league of her own when she joined a league of its own. At 27, the hoops superstar took the court for the Springfield Fame of the United States Basketball League, a men's pro league. On June 10, the Fame defeated the Staten Island Stallions 122-107; Lieberman, though, was shut out: she didn't attempt a shot in just under four minutes of court time. She went on to play three seasons for the Fame, averaging 2.3 points and 2.8 assists in 11 minutes a game.
Paula Newby-Fraser conquers Ironman
They called her the Queen of Kona for good reason. Triathlete Paula Newby-Fraser won eight Ironman World Championships in Hawaii, the first in 1986, and 21 of 26 Ironman competitions in all. In the midst of her dominance, she was named the Women's Sports Foundation's Professional Sportswoman of the Year in 1990. She also dabbled in duathlons (triathlons minus the swimming, plus more running), beating the Queen of the Duathlon, Liz Downing.
Women's Professional Volleyball Association debuts
The U.S. women's volleyball team won its first medal -- a silver -- in Los Angeles. Riding the wave, the Women's Professional Volleyball Association was born two years later. The WPVA sanctioned more than 140 events, and paved the way for a more lucrative beach volleyball league, before closing its doors in 1998.