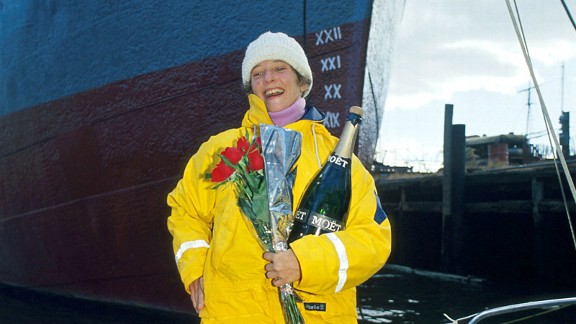 John Chiasson/Liaison
Tania Aebi is first American
to sail solo around the globe
At the time, the 21-year-old Aebi (left), who started her voyage in May 1985, was also the youngest person ever to accomplish the feat.
Congress overturns Grove City v. Bell
For all intents and purposes, Title IX was passed a second time as part of the Civil Rights Restoration Act. Congress closed the loophole exposed in Grove City by saying that if a school receives federal funding, all aspects are subject to Title IX. And this time, athletics energized the conversation about the importance of the law.
Washington celebrates National Girls and Women in Sport Day
What started as a commemoration of one person's success is now a commemoration of an entire generation's. Held in the nation's capital, the first National Girls and Women in Sport Day was planned as a one-time event to honor volleyball star Flo Hyman, who died suddenly the previous year. But the day quickly morphed into a commemoration of the opportunities afforded by Title IX. Today, celebrated in all 50 states, the first Wednesday in February acknowledges the progress of past and present athletes who continue to fight for gender equality in sport.
Gayle Sierens announces an NFL game
Network television had never featured a female NFL play-by-play announcer until Gayle Sierens stepped into the booth at Arrowhead Stadium in Kansas City before the Chiefs-Seahawks game Dec. 27. Her debut was generally considered a success, and NBC asked her back for six games the next season. But her local station made her choose between the two gigs, and she opted to do news coverage in Tampa. She hasn't called an NFL game since -- and neither has any other woman.