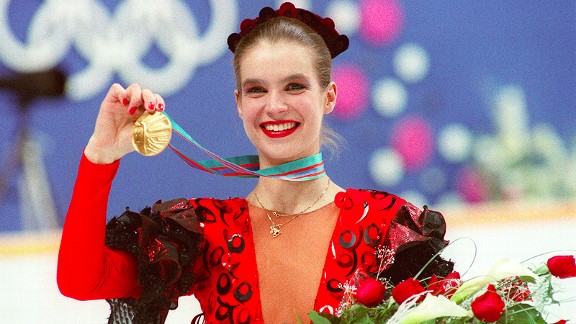 Daniel Janin/AFP/Getty Images
Katarina Witt skates
to second straight gold
Did You Know?
Swimmer Kristin Otto, eventually tainted by East Germany's widespread steroids scandal, wins six golds medals in Seoul.

Women's figure skating has never seen a five-year run quite like hers. From 1984-88, East Germany's Katarina Witt (left) won four world championships and bracketed those with a pair of Olympic gold medals. When she topped the podium in Calgary, she was the second woman ever to win two figure skating events in a row at the Games. Sonja Henie, who actually went back to back to back between 1928 and 1936, was the other.
Flo-Jo sprints to two records
Torch Tracker
Tennis and women's
table tennis are added
to the Olympics.

Florence Griffith-Joyner didn't just win three Olympic gold medals in the summer of 1988; she shattered ideas of how fast a woman could run. Both her 21.34-second 200-meter dash in Seoul and her 10.49-second 100-meter dash in the Olympic trials still stand as the bar in those events. Flo-Jo was so fast, in fact, that rumors of performance-enhancement dogged her even beyond her sudden death, at 38, in 1998. She never failed a drug test, though.
Phyllis Holmes is elected president of NAIA
She became the first woman to head up a mixed-sex national collegiate sports governing body.
Judith Davidson is named AD at Central Connecticut State
Growing the Game
There are 7.3 women's varsity teams per
U.S. college.

Central Connecticut State University doesn't have an epic sports legacy, but it did do one thing quite memorable. By naming Judith Davidson its athletic director, CCSU became the first school with a football and men's basketball team whose athletic department was led by a woman. In seven years, Davidson added varsity baseball, moved the basketball teams to D-I and increased the number of female scholarship athletes.