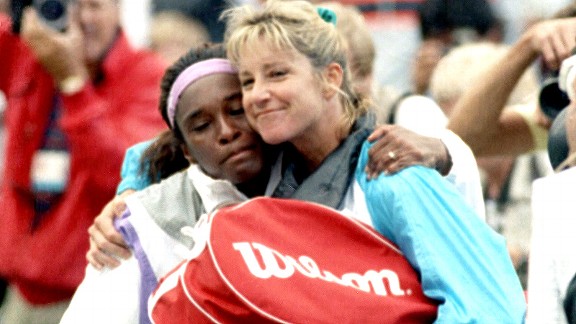 AP Photo/Adam Stoltman
Chris Evert retires
When she took the tennis world by storm at 16 in 1971, Chris Evert quickly became America's sweetheart. She soon was the Associated Press', too, winning its Female Athlete of the Year Award four times between 1974-80. (She was also the real-life sweetheart of a Hall of Fame roster of athletes, but that's beside the point.) In all, Evert (right, after losing to Zina Garrison in her final U.S. Open appearance) won 18 slams, including a record seven French and six U.S. Opens. When she retired, her .900 winning percentage (1,309-146) was the best in pro tennis history. It still is.
Julie Croteau plays college baseball with the boys
Growing the Game
There are 1.8 million girls participating in high school sports in the U.S.

On March 16, when St. Mary's (Md.) College took the field against Spring Garden College of Philadelphia, it did so with only eight men. Oh, the team had a full lineup; it's just that the first baseman was a woman. Nearly one year after a U.S. District judge ruled she was not the victim of sexual discrimination when she was cut by her high school's all-male team, Julie Croteau became the first woman to play for a men's college baseball team and the first since World War II to make the varsity of any men's team. In St. Mary's 4-1 loss that day, she went 0-for-3, and she finished the year hitting .222 off the bench for the 1-20-1 squad.
Victoria Bruckner is first American girl to play in LLWS
In all, 14 girls besides the San Pedro, Calif., first baseman have made it to the Little League World Series in Williamsport, Pa.