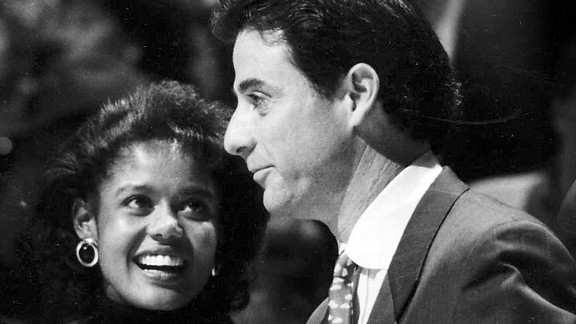 University of Kentucky Athletics
Bernadette Locke
coaches men's basketball
Kentucky Wildcats basketball was never at the forefront of social change; for much of his tenure, longtime coach Adolph Rupp was reluctant to recruit black players. But Rick Pitino is no Adolph Rupp. He hired Bernadette Locke as an assistant coach, the first female to work the sideline for a D-I men's hoops team. (Only three other women have held similar jobs since.) After four seasons, which included a Final Four appearance, Locke (left, with Pitino) moved into the administration as an assistant athletic director. Now known by her married name of Bernadette Mattox, she went on to coach the Kentucky women and currently is an assistant with the WNBA's Connecticut Sun.
Wheelchair athlete Jean Driscoll wins Boston Marathon
Racing was actually Jean Driscoll's second sport. Born with spina bifida, Driscoll was recruited by the University of Illinois to play wheelchair basketball in 1986. Once there, she joined the wheelchair track and field team as well. Talk about playing to your strengths. Driscoll was soon competing in marathons, and soon after that, winning them. The 1990 Boston Marathon was the first of seven straight (and eight overall) she won. She is the only competitor to break the course- and world-record five times.
Sara Lee contributes $6 million to women's sports
Growing the Game
There are 160,000 women participating in college sports in the U.S.

Advertising for the food giant boasted, "Nobody doesn't like Sara Lee." On Sept. 18, if the sample size was restricted to women college jocks, that hyperbole just might have been accurate. In what was the first commitment of its kind, the corporation offered a minimum of $6 million over three years to sponsor women's intercollegiate sports. The money bought advertising support for championships and was donated to the alma maters of each state's female athlete of the year. The school that was home to the nation's No. 1 woman got $50,000. "Not many years ago, women would have loved to have $50,000 for their entire athletic budget," NCAA executive director Dick Schultz told the Chicago Tribune. "This is going to bring women's sports to a new level."
Juli Inkster takes Spalding Invitational Pro-Am
The rare Michelle Wie exception aside, there is only one golf tournament -- the Spalding Invitational Pro-Am at Pebble Beach, Calif. -- in which men and women go head to head. And on Dec. 16, Juli Inkster topped its leaderboard. Her 4-under-par 284 total made her the first -- and to this day -- only woman to win the event. "I'll use the money for diapers," the new mother said.