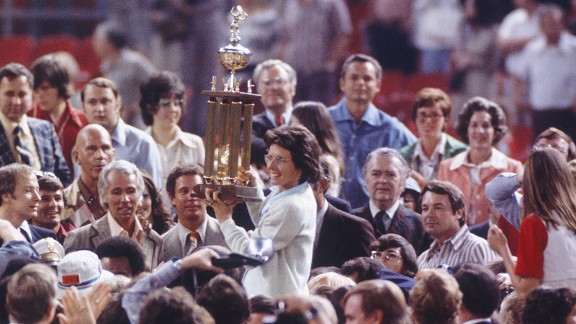 Focus on Sport/Getty Images
Billie Jean King triumphs
in Battle of the Sexes
Yes, she was a multiple Grand Slam winner and the first female athlete to earn $100,000 in a year ($117,000, to be exact). But nothing Billie Jean King had done previously drew as much attention as her prime-time grudge match against Bobby Riggs, a retired four-time Grand Slam champ. Riggs, an obnoxious mocker of the women's game, had beaten its then-No. 1, Margaret Court, before King (left, holding the challenge event's trophy) grabbed the gauntlet. But though the hype was loud -- spurred by a $150,000 guarantee for each player and a $100,000 bonus for the winner -- the event itself, at the Houston Astrodome on Sept. 20, was more of a whisper. King won easily, 6-4, 6-3, 6-3.
U.S. Open offers equal prize money to men and women
Growing the Game
There are 1.3 million girls participating in high school sports in the U.S.

When Billie Jean King won at Forest Hills in 1972, she pocketed $15,000 less than male champ Ilie Nastase. Afterward, she said she wouldn't defend her title unless tourney organizers leveled the scales. Such a strong stance from the world's most famous player and WTA president got the job done. King didn't cash in immediately -- she lost in the third round in 1973 -- but she snagged the bigger check in 1974. Today, all four majors are gender-blind on payday.