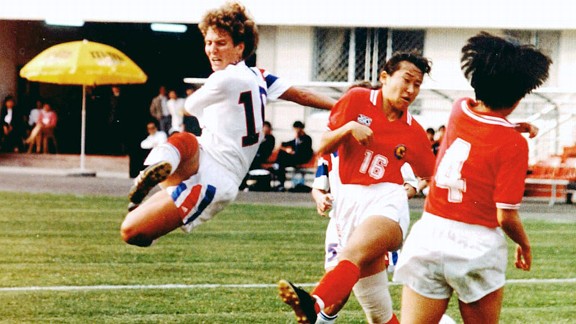 AP Photo
Team USA wins inaugural women's soccer championship
It wasn't yet the Women's World Cup, but the inaugural Women's World Championship -- a 12-team tournament conceived by FIFA honcho Joao Havelange -- immediately became a premier women's event. And the U.S., behind a tourney-leading 10 goals by Michelle Akers (left), nabbed the gold. Its 2-1 win against Norway in the final attracted 63,000 people to Tianhe Stadium in Guangzhou, China.
Judy Sweet elected NCAA president
Did You Know?
Jo-Ann Fairbanks is the first American woman to work the lines in an international soccer match.

Not everyone sent flowers when Judy Sweet moved into the NCAA's corner office. The organization's first woman president received her share of hate mail and bad press. Furman Bisher, sports editor of the Atlanta Journal, for one, wrote: "The installation of a woman as NCAA president befuddles me. ... This is mainly a male organization, and I consider her ascension as pure tokenism." Sweet, who also took some heat for her small-school origins, said later, "anyone who had an issue with my gender or my division, that was their issue. I did not let it become my issue." She served a two-year term.
NCAA Women's Final Four reaches the masses
The first time the women's basketball final was televised was also the first overtime game in the tournament's 10-year history. Tennessee beat Virginia 70-67 for its third title.
Jenny Hanley plays hockey against the boys
Once they put on their masks, hockey goalies all look the same. But on Nov. 15, Hamline University's goalie was different. The freshman netminder was a freshwoman, the first female to play men's college hockey in the United States. Jenny Hanley had 26 saves for the Pipers, backstopping a 5-2 win against Wisconsin-Stout's club team. She'd go on to start several more games at Hamline as well as at St. Thomas, where she transferred.