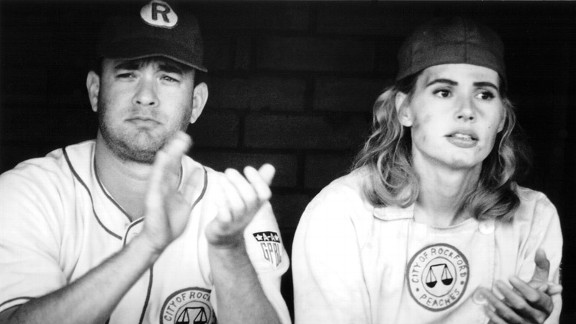 Courtesy of Columbia Pictures
'A League Of Their Own' opens
Torch Tracker
Women's badminton, biathlon, judo, short track speed skating and slalom (canoe/kayak) are added to the Olympics.

Who under the age of 60 even knew there was once a women's baseball league? Everyone after July 1, when Columbia Pictures released "A League of Their Own," director Penny Marshall's fictionalized depiction of the 1940s All-American Girls Professional Baseball League, to glowing reviews and impressive box office results. It didn't hurt that it starred Madonna, Geena Davis and Tom Hanks (the latter two are pictured). The movie made $107 million domestically, and Hanks' character Jimmy Dugan's timeless scold, "There's no crying in baseball!" sits at No. 54 on the American Film Institute's "100 Years ... 100 Film Quotes" list.
Lyn St. James is rookie of the year at Indy
Fifteen years after Janet Guthrie became the first woman to race in the Indianapolis 500, Lyn St. James' attempt to be second almost stalled before it started. Struggling to qualify in her own car, St. James snagged someone else's backup and earned a spot in the starting grid. That made her, at age 45, the oldest rookie in the race's history. Then her 11th-place finish made her the race's first woman rookie of the year. She raced in seven 500s in all, the last in 2000, the first time two women entered the same race. Unfortunately, St. James and Sarah Fisher knocked each other out in a Turn 1 crash.
Zhang Shan shoots her way to skeet shooting gold
Through 1992, skeet shooting was a mixed-sex event in the Summer Olympics. That's the year China's Zhang Shan became the first woman, and the first Asian, to win it. She didn't miss a target in the preliminary rounds and hit 23 of 25 in the final for a world-record 223 points. Is it a coincidence that four years later skeet was a men's-only event? (Women's skeet was introduced in 2000.)
Manon Rheaume minds an NHL net
As the Tampa Bay Lightning brass prepared for its first NHL season, they were impressed by film of an undersized goalie. When GM Phil Esposito realized the goalie was a she, he was even more intrigued. On Sept. 23, Manon Rheaume started an exhibition game against the St. Louis Blues. In one period, she stopped seven of nine shots and left with the teams tied. After her replacement let in two goals, fans chanted, "We want Manon!" The next day she signed with the Atlanta Knights, the Lightning's IHL affiliate, and never again made the show. Rheaume led Canada to silver in the Olympic debut of women's hockey in 1998.