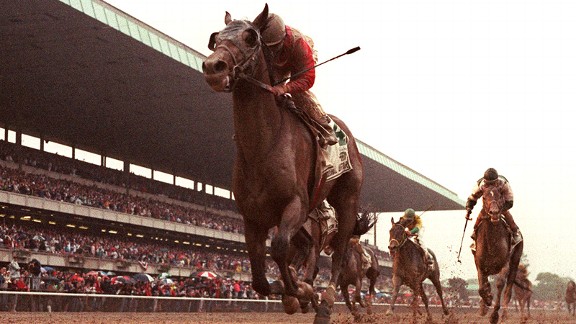 AP Photo/Jim Sulley
Julie Krone takes the Belmont
Growing the Game
There are more than 2 million girls participating in high school sports in the U.S.

On June 5, Colonial Affair (left, in front) went off as a 14-1 shot in the Belmont Stakes. Two-and-a-half minutes later -- give or take a fraction -- he crossed the line first, making Julie Krone the first (and still only) woman jockey to win a Triple Crown race.
Baseball gets its first female public-address announcer
Did You Know?
The U.S. lifts its ban
on women's boxing in response to a lawsuit
filed by 16-year-old
Dallas Malloy.

"Good afternoon, baseball fans. Welcome to Candlestick Park!" Sherry Davis beat out 498 candidates, including seven other women, to be the San Francisco Giants' public-address announcer, the first woman in the big leagues to hold that job. Davis held the position through the 1999 season, after which she was replaced by another woman, Renel Brooks-Moon. In 2002, Brooks-Moon was the first female PA announcer to work a World Series. Davis' first-game scorecard and Brooks-Moon's World Series card are both in the Hall of Fame.