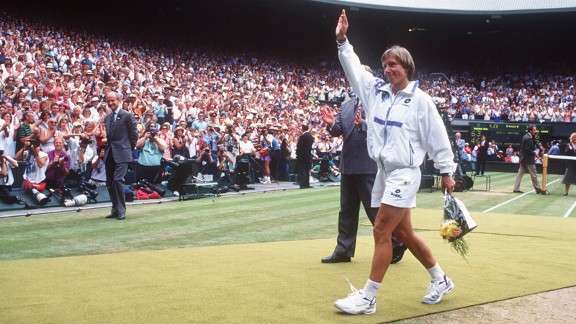 Bob Martin/Getty Images
Martina Navratilova
retires from singles play
It was a remarkable 22-year career, but at 37, Martina Navratilova, the iron-willed lefty, knew it was time to hang up her racquets. The Czechoslovakian-born icon walked away with a record 167 singles titles -- including 18 Grand Slams. (She would stage a brief and modestly successful comeback in 2000.) But her legacy, of course, extended far beyond her athletic achievements. In 1981, Navratilova publicly revealed her lesbianism and became a leading gay rights activist.
Bonnie Blair wraps up with five gold medals
Growing the Game
There are 7.2 women's varsity teams per
U.S. college.

In Lillehammer, Norway, having already defended her 500-meter speedskating title, Bonnie Blair doubled down in the 1,000, crushing the field by more than a second. It was her fifth gold in three Olympics, the biggest haul ever by an American woman in the Winter Games. Her feat got almost as much attention at year's end: Blair was named AP Female Athlete of the Year, Women's Sports Foundation Individual Sportswoman of the Year and SI's Sportswoman of the Year. Her three straight golds in the 500 put Blair in a trio of three-peating female Winter Olympians with figure skater Sonja Henie and 5,000-meter speedskater Claudia Pechstein.
Shannon Miller vaults to second straight all-around world title
It was quite the shiny career even before the world championships began in 1994. Gymnast Shannon Miller had led the U.S. to a team silver at the last worlds in 1992 -- its best finish ever at the time -- then won five medals at the Summer Olympics, the most of any American at the '92 Games. At the '94 championships, she overcame a pulled stomach muscle to become the second woman -- and first American -- to take the all-around in consecutive years, defeating Romanian Lavinia Milosovici by 0.038 points. Miller wasn't quite done: In 1996, she and her mates won America's first Olympic team gold and she took her own gold on the balance beam. That made her the most decorated American gymnast in history, with seven medals.
Ila Borders pitches to college boys
You throw like a girl? You wish. The 19-year-old lefty who took the mound for Southern California College against Claremont-Mudd on Feb. 15 was Ila Borders, and she became the first woman to pitch in an NCAA baseball game. And if Borders had any first-time jitters, she left them in the clubhouse. Borders retired the first 10 batters, pitched a complete game and won 12-1. She played three years for Southern California College, then transferred to Whittier, where she finished 4-5 with a 5.22 ERA during her lone season there. In 1997, she became the first woman to play in the minor leagues.
Minnesota sanctions high school girls' ice hockey
A statewide survey determined more than 8,000 young women were itching to hit the rinks and, on March 21, Minnesota decided to let them, becoming the first state to sanction high school girls' ice hockey. Twenty-four schools adopted the sport in the first season, and Apple Valley High claimed the inaugural state championship. Today, more than 120 teams compete in Minnesota alone, and girls' hockey is the fastest growing sport in the U.S.
Female baseball team takes on the men
The brainchild of former Atlanta Braves executive Bob Hope, and managed by Braves Hall of Fame knuckleballer Phil Niekro, the Colorado Silver Bullets were the first all-women's pro baseball team in 40-plus years. Competing as an independent member of the short-season Northern League, the Bullets faced minor league, semipro, college and amateur men's teams. After losing their primary sponsor, the Bullets folded in 1997, following their only winning season.