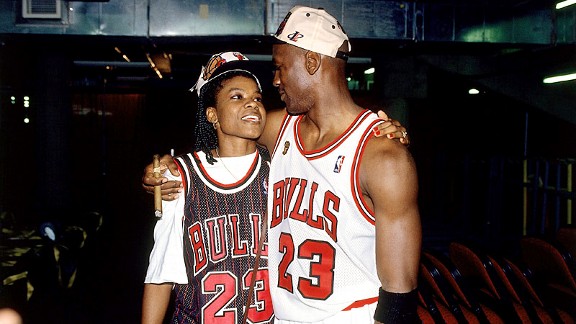 Nathaniel S. Butler/NBAE/Getty Images
Nike releases 'Air Swoopes'
Did You Know?
Julie Croteau takes an assistant coaching job for UMass baseball, the first time a woman has held the position in Division I.

Well, people were calling her the "female Michael Jordan," so it made sense that Sheryl Swoopes (left, with Jordan) would be the first woman baller to get Nike's signature sneaker treatment. The design of the "Air Swoopes" echoed the playmaker's game -- silky smooth, yet strikingly bold -- and they sold well in the Olympic run-up. Their namesake went on to win gold in Atlanta, the first of her three. Swoopes also won four WNBA
championships with the Houston Comets.
Kerri-Ann McTiernan is head coach of Kingsborough CC men
Growing the Game
There are 2.2 million girls participating in high school sports in the U.S.

The members of the men's basketball team at Kingsborough Community College in Brooklyn, N.Y., didn't quite know what to make of the new coach. It wasn't the new guy's age (25) or size (5-foot-6). It was that the new guy wasn't a guy at all. But as the first female coach in the history of men's college basketball, Kerri-Ann McTiernan knew how to win them over. "Once the players know they can count on you, the basketball comes easy," McTiernan said. In her fifth and final season as head coach, McTiernan led success-starved Kingsborough to a city championship.