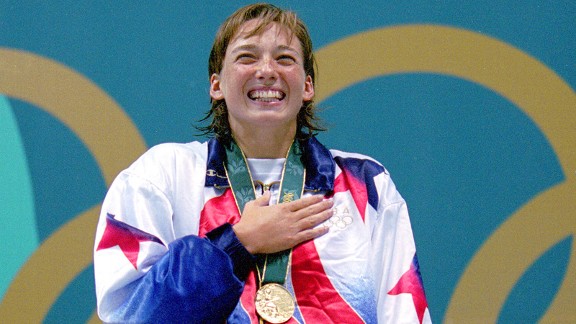 Simon Bruty/Getty Images
Amy Van Dyken wins four golds
Torch Tracker
Women's soccer, softball, beach volleyball, mountain biking and epee are added to the Olympics.

The most dominant performance by a female athlete at the Summer Olympics came from a swimmer who chose her sport not for enjoyment but for survival. A severe asthmatic, Amy Van Dyken (left) began swimming at 6 to strengthen her lungs; it was years before she could even swim the length of a pool. But by 1996, no woman was faster at it than she was. Van Dyken's four swimming gold medals (in the 50-meter free, 100 butterfly, 4x100 freestyle relay and 4x100 medley relay) were a record collection for an American woman.
Uta Pippig wins third straight Boston Marathon
Growing the Game
There are 2.4 million girls participating in high school sports in the U.S.

The 100th edition of the Boston Marathon deserved to be a race to remember, and Uta Pippig made sure it was, becoming the first woman to win the storied competition three times in a row. Pippig's three-peat was far from a lock, though. The 30-year-old German stumbled out of the gate, tortured by intense digestive problems, and was forced to walk a while only 7.5 miles in. But Pippig persevered, clawing back from a 220-yard deficit for a gutsy, memorable win.
The Summer Olympics are marketed to women
The Atlanta Games marked the first time NBC, national advertisers and the media realized who their primary constituents were. The network's pre-event teasers focused on women's sports. Sports Illustrated put the U.S. women's basketball team on its cover, and the New York Times Magazine declared these Games would be the ones in which "Women Muscle In." The targeted approach averaged a 21.6 Nielsen rating (20.7 million TV households). More important, there was a 16 percent increase from the '92 Summer Games amongst females 18 to 34, and a 69 percent jump from 1988. NBC cleared $70 million in 1996, and the Olympics have been marketed to women ever since.
Steffi Graf surpasses Martina Navratilova for most weeks at No. 1
Did You Know?
• Boxer Christy Martin beats Deirdre Gogarty
in the first women's
pay-per-view bout.
• Becky Oakes is named president of the National Federation of State High School Association's board of directors, the first woman to head the
77-year-old organization.

In 1987, at the age of 18, Steffi Graf leapfrogged Martina Navratilova to sit atop the WTA rankings. Nearly a decade later, she was still there. After racking up 97 singles titles -- including 18 Grand Slams -- Graf usurped her celebrated predecessor again, breaking Navratilova's record for most weeks as tennis' top-ranked player. "I realized that I have been No. 1 for an extremely long time," Graf said after her 332nd week atop the standings. "But to hear the number, it's pretty amazing." She continued to amaze and ultimately was ranked No. 1 for a record 377 weeks.