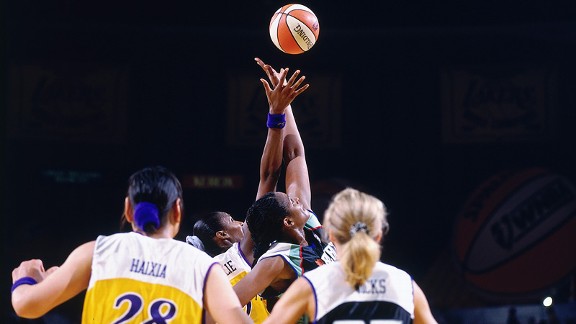 Andy Hayt/NBAE/Getty Images
WNBA tips off
From the seeds of women's basketball success at the 1996 Summer Olympics, an NBA-backed pro league sprouted. And in the inaugural game on June 21, the New York Liberty (pictured in blue) beat the Los Angeles Sparks, 67-57, in front of 14,284 at the Great Western Forum. There were eight teams during that first season, and the Houston Comets went on to win the title -- and the next three, as well.
Martina Hingis wins Australian Open
Technically, she was already the youngest Grand Slam titleholder, sharing the Wimbledon doubles crown at 15 years, nine months. But to make it easy on trivia buffs, Martina Hingis took the Australian Open all by herself on Jan. 26, defeating former champ Mary Pierce. Hingis was 16 years, three months. Her career included 209 weeks at No. 1 and 14 Grand Slam titles (five in singles, nine in doubles).
The International Female Boxers Association is formed
Women's boxing dates to 1722. And just 275 years later, a governing body was convened to oversee the sport. Today, the International Female Boxers Association manages 15 weight classes and continues to lobby for the addition of women to the Boxing Hall of Fame. The fruits of its fight to get its boxers into the Olympics will be seen this summer in London.
Dee Kantner and Violet Palmer ref in NBA
On Halloween night, the two zebras patrolling the season opener between the Vancouver Grizzlies and Dallas Mavericks were mares. It was the first time a major U.S. pro sport was officiated solely by women. In the Mavs' 90-88 victory, Kantner and Palmer called a total of 48 personal fouls. The year before, the NCAA had asked Palmer to officiate a men's tournament game, but the offer was withdrawn after too many schools rose up against the thought of a woman with a whistle.
Liz Heaston kicks extra points in men's football game
Willamette's 27-0 win over Linfield College on Oct. 18 would have been unremembered as one of those uneventfully dominant performances if not for the pair of PATs by backup kicker Liz Heaston. The kicks made Heaston, a soccer star for the Division III Bearcats, the first female to play and score in a college football game. Her career lasted one more game, and she missed her two other attempts, but her jersey is on display at the College Football Hall of Fame.