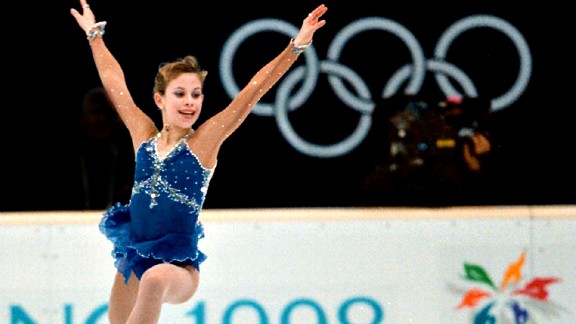 Joel Richardson/Getty Images
Tara Lipinski skates to gold
Torch Tracker
Women's snowboarding, curling and hockey added to the Olympics.

As she stepped onto the ice in Nagano on Feb. 20, Tara Lipinski had a couple of things to prove: 1) that age ain't nothin' but a number; and 2) that figure skating is as much about power as elegance. The spunky 15-year-old did both, her explosive jumps and relentless energy winning over the world while overshadowing the traditional artistry and grace of heavy favorite Michelle Kwan. In executing the singularly difficult technical aspects of her program to near-perfection, Lipinski (left) became the youngest gold medalist in Winter Olympics history.
'20/20' covers Title IX's impact
The name of the May 29 segment wasn't at all subtle: "The End of Sports in Schools: Legislation that Discriminates Against Men." Twenty-five years after Title IX was enacted, ABC's newsmagazine "20/20" was lending credence to the theory that it disrespected male student-athletes. Among the critics featured on the show was Leo Kocher, wrestling coach at the University of Chicago, who argued that "for every female added to athletic rosters nationally, four males have been dropped." His was a prime-time face to a simmering backlash. Presidential candidates Steve Forbes and Alan Keyes had both recently signed the Iowans Against Quotas petition, which effectively opposed the key proportionality pillar of Title IX.
Ladies League Baseball folds
Just a year after its founding, Ladies League Baseball, the first women's pro baseball league since 1954, closed in August. It was drawing only some 500 fans per game.