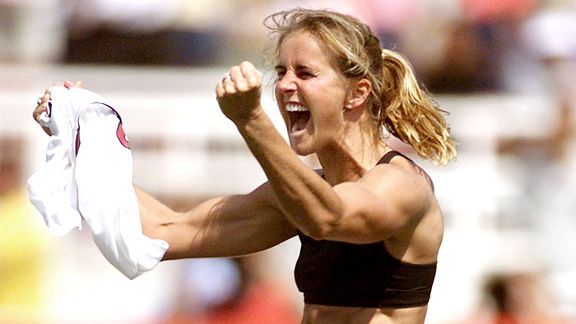 Roberto Schmidt/Getty Images
U.S. soccer rules the world
Did You Know?
"First lady of NASCAR," driver Louise Smith, is first lady in International Motor Sports Hall of Fame.

Call it "The Year of Women's Soccer." On May 22, Mia Hamm set a gender-neutral mark for international goals (108; she'd get 50 more before she was through). Less than a month later, Hamm and her U.S. mates drew 78,972 fans to Giants Stadium for the World Cup opener, the largest crowd for a women's sporting event in the U.S. Well, at least until the final, when 90,185 saw Team USA beat China at the Rose Bowl on Brandi Chastain's very photogenic penalty kick (left). The win struck a chord: For the first time in 75 years, Wheaties featured soccer players on its box -- Hamm, Chastain, Kristine Lilly, Michelle Akers and Briana Scurry.
National Women's Hockey League is formed
Today, it is known as the Canadian Women's Hockey League, and Jayna Hefford is its all-time scorer leader with 252 goals in an eight-year career.
The Women's Basketball Hall of Fame opens
Members of the inaugural class included Nancy Lieberman, Cheryl Miller and Pat Summitt. The 32,000-square-foot facility in Knoxville, Tenn., now holds 127 worthy females.