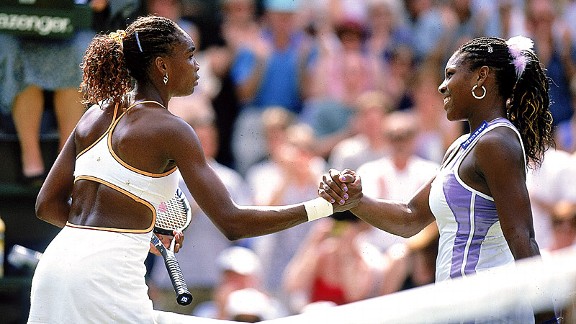 Clive Brunskill/Getty Images
Williams sisters
rule at Wimbledon
Growing the Game
There are 8.1 women's varsity teams per
U.S. college.

Being the big sister didn't make it any easier. On July 6, 20-year-old Venus Williams (left in photo) defeated 18-year-old Serena at Wimbledon in an emotional two-set semifinal, the first Grand Slam match contested between sisters. A few days later, the Williams women teamed up to take the doubles title. They were the first sisters to do that, too. (Venus would also beat Lindsay Davenport to become the second African-American woman to take the fortnight, after Althea Gibson in 1957 and 1958.)
U.S. women make case for pay parity in soccer
Despite highlighting a 1999 World Cup that filled stadiums and attracted more than a billion viewers, the members of the U.S. women's national soccer team were making $3,150 a month. Their counterparts on the men's team took home $1,850 more. So the women boycotted a tournament in Australia until they were compensated in kind. They got what they wanted, and the U.S. Soccer Federation got its money's worth: The American team promptly went out and won.
Heather Sue Mercer wins suit against Duke football
Torch Tracker
Women's weightlifting, women's skeet, pentathlon, taekwondo and trampoline are added to the Olympics.

It took a jury only two hours to determine that Heather Sue Mercer, a walk-on kicker at Duke, had been inappropriately dropped from the football team and sexually discriminated against by coach Fred Goldsmith and his staff. The monetary punitive damages were later overturned, however.