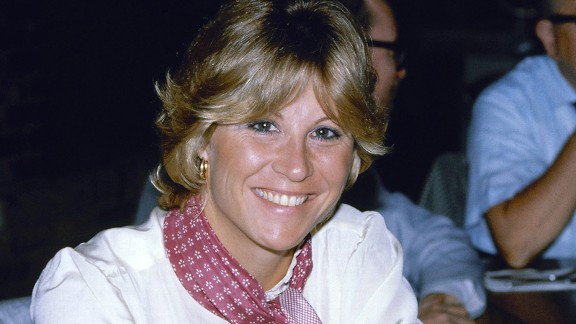 AP Photo/Dave Pickoff
Donna de Varona, Billie Jean King start Women's Sports Foundation
She was the youngest swimmer at the 1960 Summer Olympics, at 13, and a two-time gold medalist four years later. But Donna de Varona soon ran out of places to swim. In her time, colleges didn't offer scholarships to female swimmers. So in 1974, de Varona (left, at the 1980 Summer Olympics) teamed with tennis legend and women's rights activist Billie Jean King to form the Women's Sports Foundation, the mission of which was to "advance the lives of women and girls through sports and physical activity." Now in its 38th year, the WSF has doled out $8 million in grants and scholarships.
National Women's Football League hits the field
The Dallas Bluebonnets and Los Angeles Dandelions were two of the seven founding members of the National Women's Football League. But don't let the names fool you: The NWFL was no lingerie-clad novelty. In its second year, Toledo Troopers running back Linda Jefferson was Women Sports magazine's athlete of the year. And by 1976, the league had expanded to 14 teams. But in the mid-1980s, the NWFL split into two competing leagues, and neither lasted long.
Pat Singer gets NASCAR press pass
Stock car garage doors had never been an easy lift for a woman. Not even the editorship of a racing paper was enough to gain Pat Singer entry. But Singer got some help from an Associated Press writer, who handed in his press badge to protest her lack of one. On Oct. 20, she finally got hers. "The hundreds of women who cover auto racing today probably never heard of a man named Bloys Britt, but he, almost single-handedly, opened the doors for them to come inside," Singer told the Baltimore Sun years later.
Girls suit up for Little League
A year after Kathryn Johnston was the first girl to play Little League in 1950 -- she disguised herself as a boy to make a team in Corning, N.Y. -- the organization's honchos officially banned her sex from their game. Some girls, of course, continued to play "illegally." More than two decades later, the National Organization for Women sued on behalf of Maria Pepe, a girl who was forced off her team in Hoboken, N.J. And when the courts ruled in their favor, female players had to hide no more.
Title IX is tweaked
Two years after the groundbreaking law was passed, Sen. John Tower, from the great football-obsessed state of Texas, tried to tamp down its scope. His proposed exemption of revenue-producing sports (you know, football) failed, but New York Sen. Jacob Javits soon sponsored another that took into account the fact that some sports are inherently more expensive to outfit. His bill made sure that Title IX compliance was not a dollar-for-dollar calculation, while still maintaining the law's teeth.