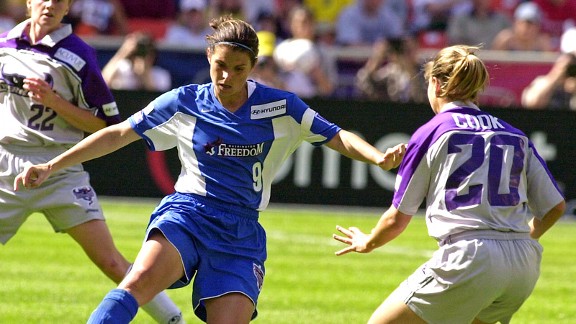 Nick Wass/ALLSPORT
Women's United Soccer Association is formed
Growing the Game
There are 2.8 million girls participating in high school sports in the U.S.

The league began play with eight franchises in the U.S. Despite the unwavering popularity of the national team and the likes of Mia Hamm (left, in blue), the WUSA burned through $100 million and folded after just its third season.
Ashley Martin kicks three extra points for Jacksonville State
On Aug. 30, Ashley Martin became the first woman to score in a D-I football game. While a student at East Coweta High in Georgia, she accepted the homecoming queen crown while wearing her football jersey.
U.S. hosts Women's Boxing World Championships
In 1993, the U.S. lifted a ban on women's boxing. In 1997, it held the first Women's National Championships. And in 2001, more than 150 boxers from 35 countries converged on Scranton, Pa., for the first Women's World Championships. Heavyweight Devonne Canady grabbed gold for the U.S.