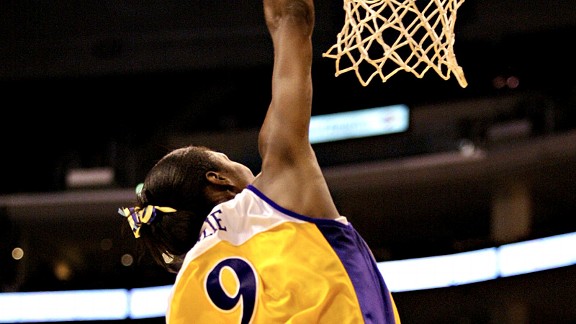 Lisa Blumenfeld/Getty Images
Lisa Leslie throws one down
Olympic golds, MVP awards, record stats -- Lisa Leslie (left) had all of those and then some. But nothing establishes court cred like a dunk, and on July 30, the 6-foot-5 Sparks center finally threw one down in a game, becoming the first pro to do so. Only one other woman has done so since: Candace Parker, another Spark, in 2008.
Cleveland Cavaliers hire Lisa Boyer as an assistant coach
After five years as an assistant with the WNBA's Cleveland Rockers, Lisa Boyer accepted John Lucas' offer to cross the aisle. When she joined his Cavaliers staff, she became the first -- and still only -- woman to hold that job in the NBA. League restrictions on the number of sideline assistants kept her off the bench during games, but Boyer worked with the team for a year before returning to the women's game as the lead assistant at Temple. Today, she is the associate head coach at South Carolina.
Women break U.S. Olympic bobsled drought
Torch Tracker
Women's bobsled and skeleton are added to
the Olympics.

Heading into the Winter Olympics, U.S. bobsledders had gone 46 years without winning a medal. But Salt Lake City marked the first appearance of women's bobsled in the Games, and that was just the opening the Americans needed. Jill Bakken and Vonetta Flowers quickly ended the drought on Feb. 19. Flowers made a little extra noise as the first black athlete from any country to win a Winter Olympic gold. To mark their feat, the two were chosen to carry the Olympic flag in the closing ceremony.
Michelle Wie qualifies
There are lots of places to find a 12-year-old girl, but before 2002, the LPGA Tour was not one of them. Michelle Wie, a statuesque pre-teen from Honolulu, was the youngest to qualify for a women's pro event when she made the field of the season-opening Takefuji Classic in Waikoloa, Hawaii. What she didn't make was the cut, missing by three strokes.