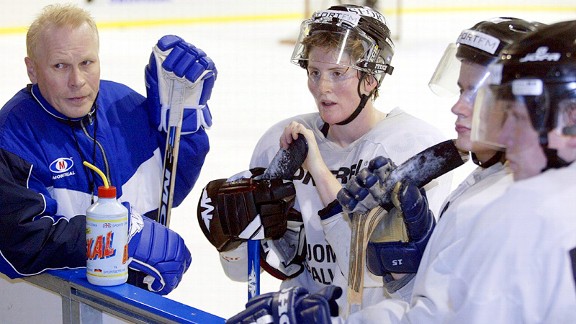 AP Photo/Lehtikuva/Jussi Nukari
Hayley Wickenheiser
skates with the guys
With no one in her world to even challenge her, Canadian forward Hayley Wickenheiser (second from left) moved to Europe to lace 'em up. And on Jan. 11, in her second game with HC Salamat, a Finnish club, the 24-year-old recorded an assist, making her the first woman to get a point in a men's pro hockey game. In 23 games in her lone season, Wickenheiser contributed two goals (also a female first) and 10 assists. Some worried that if the best women followed her to men's leagues, women's leagues would become irrelevant. Salamat owner and NHL superstar Teemu Selanne put those worries to rest, pointing out that there weren't many others like Wickenheiser. He was right; only three other women have played pro men's hockey.
Venus and Serena Williams own the court
Over an eight-month period, the two top-ranked players in women's tennis faced off in four straight Grand Slam finals. Not only was it the first time that ever occurred, the two women also happened to be sisters. Although Venus Williams was No. 1, Serena won all four matches. It's why that stretch of tennis' timeline will always be known as the "Serena Slam." By the end of the run, Serena had replaced big sis in the top spot.
Annika Sorenstam putts on the PGA Tour
All she wanted to do was raise her game, but not everyone applauded her stab at self-improvement. When Annika Sorenstam accepted an invitation into the Bank of America Colonial in Fort Worth, Texas, the first woman in 58 years to try the PGA Tour, Vijay Singh (the tour's No. 7-ranked golfer) said, "She doesn't belong out here," then threatened to withdraw if he was paired with the moonlighter. After she missed the cut (by four strokes), Mark Brooks said, "The great game of golf has spoken." But Jesper Parnevik called her "Superwoman," and many complimented the way Sorenstam rose above the controversy. Five months after the ruckus-causing rounds, Se Ri Pak became the first woman since 1945 to make a men's cut, at a Korean tour event. "Women can also do it!" Pak confirmed. Sorenstam, meanwhile, retired in 2008 at the top of her game, having won 72 LPGA tournaments, 10 majors and more than $22 million in prize money.
Department of Education clarifies Title IX compliance
What began as a thinly veiled attack on Title IX ended up confirming the law's strength. The Commission on Opportunities in Athletics was created in 2002 and stacked with members who opposed Title IX. Not surprisingly, its recommendations would have significantly weakened the law. But thanks in no small part to intense public outrage, the Department of Education did not adopt any of the changes. Instead, it issued a clarification that re-affirmed the three-prong test and made it clear that cutting teams was a disfavored practice.