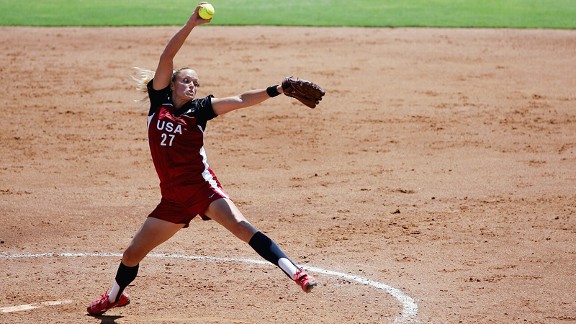 Chris McGrath/Getty Images
Fastpitch league revs up
Torch Tracker
Women's wrestling
and sabre are added
to the Olympics.

In 2002, after four years, the Women's Pro Softball League suspended operations, looking to rebuild and rebrand. The result was a partnership with Major League Baseball and a new entity: National Pro Fastpitch. On June 1, the first pitch was thrown by Michele Smith of the NY/NJ Juggernaut. In the first season, more than 90 players filled out six team rosters, including A-list Olympians such as Jennie Finch (left). This season, four teams will compete: the USSSA Florida Pride, Akron Racers, Carolina Diamonds and Chicago Bandits, owners of the league's best record in five of its eight seasons.
Michelle Wie takes turn in PGA tournament
The 14-year-old was even after two rounds at the Sony Open but missed the cut by a stroke.
Candace Parker out-dunks the boys
On March 29, high school star and two-time USA Today Player of the Year Candace Parker entered the dunk contest at the McDonald's All-America Game, the second female to test her hops in the event. Her final dunk, which earned a 10 from seven of the eight judges (Barry Sanders stiffed her with a 9), was good enough to outpoint her five male rivals. You know who else has won this particular showcase? LeBron, Carmelo and Vince.