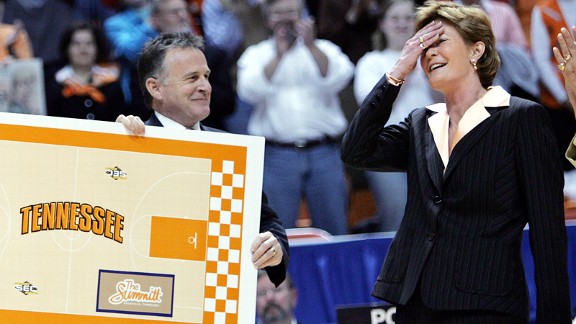 AP Photo/Susan Walsh
Pat Summitt wins the big one
On March 22, Tennessee's 75-54 trouncing of Purdue made Pat Summitt the winningest NCAA basketball coach, man or woman, in history. No. 880, which slipped her past UNC's Dean Smith, prompted UT to rename the court at Thompson-Boling Arena, "The Summitt." It's the kind of honor you give as a going-away present. But Summitt didn't go anywhere for a while. When she finally retired, in 2012 after revealing she had early-onset Alzheimer's, Summitt had 1,098 wins, a win percentage of .840, 18 Final Four appearances and eight championships.
American Angela Ruggiero plays men's hockey
On Jan. 25, U.S. gold medalist Angela Ruggiero played defense for the Tulsa Oilers, of the Central Hockey League, alongside her brother, Bill. She had an assist in a 7-2 win.
Becky Zerlentes suffers fatal blow
Women boxers had always managed to duck the most unfortunate outcome of their sport. But on April 2, at a Golden Gloves event in Denver, Becky Zerlentes stepped into a knockout punch from Heather Schmitz that rendered her unconscious. She died the next day, the first female boxer lost to injuries sustained in a sanctioned U.S. event. Zerlentes, a teacher and previous Golden Glove champ, was 34.
India and Pakistan women go head-to-head in cricket
When cricketers from India and Pakistan meet on the pitch, it makes Yankees-Red Sox seem like T-ball. But until September 2005, the rivalry was a single-sex obsession because Pakistani women were, for the most part, forbidden from playing sports in public. Even at this Pakistan-hosted event, the first featuring women's teams, the home club was required to follow the Islamic dress code, and only family members were allowed to watch the action. Maybe that was a good thing: The more experienced and talented Indian team won by 33 runs.
New York City Marathon pays women more than men
Mary Wittenberg, the director of the 2005 NYC Marathon, was the first female head of a major marathon, so it's no surprise that under her stewardship the "Run For Something Better" initiative was instituted to bolster the number of women in track and field. As part of the program, marathon sponsor ING offered a $30,000 bonus to the women's winner, and that bumped the top prize to $130,000, the richest payout offered by any marathon. It was the first time a sports event offered more to a woman -- specifically, Latvia's Jelena Prokopcuka -- than a man.
Court says Title IX protects whistle-blowers
In Jackson v. Birmingham Board of Education, the Supreme Court held that retaliation following complaints of sex discrimination is itself a form of discrimination and covered under Title IX. Two years later, a jury awarded a record $5.85 million to former Fresno State volleyball coach Lindy Vivas in a landmark Title IX retaliation case. More successful cases involving women coaches who said they were penalized for their advocacy of Title IX followed.