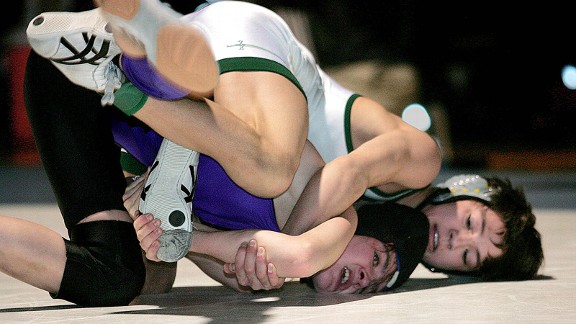 AP Photo/Al Grillo
Michaela Hutchison
wins a wrestling title
With chants of "Girl power!" echoing throughout the gym, sophomore Michaela Hutchison won Alaska's 103-pound wrestling final, the first girl in the nation to win a state title against boys. Hutchison (in white) finished the season 41-4 for Soldotna Skyview High in Anchorage and was one pin shy of a state record (33). The accomplishments were rare, but they had also been foreshadowed: A year earlier, 17 girls qualified for boys' state wrestling championships.
Epiphanny Prince scores 113 in a high school basketball game
Epiphanny Prince, who played for Murry Bergtraum High in New York and would go on to play for Rutgers, was the first American woman to skip her senior year of college to play professionally in Europe.
Cecilie Skog completes "Adventurer's Grand Slam"
Did You Know?
Rachael Scdoris is the
first blind musher to finish the Iditarod.

In 1999, she climbed the tallest peak in South America. By 2006, she'd been to the top spot on the other six continents and to the South Pole as well. But it was after Cecilie Skog reached the North Pole, in under 49 days, that peers really took notice. Her Arctic trip made her the first woman to complete the "Adventurer's Grand Slam" -- visits to both poles and each continent's highest summit. In all, 27 intrepid souls have achieved the feat.
Kelly Kulick rolls on the PBA Tour
Growing the Game
There are 3 million girls participating in U.S high school sports and 8.5 women's varsity teams per U.S. college.

When the Professional Women's Bowling Association folded in 2003, Kelly Kulick figured she'd never fulfill her dream of bowling professionally. But when one door closes, the PBA opens another. After finishing sixth against the men at the Denny's PBA Tour Trials, she earned a full-season exemption on their tour. She competed in 19 events in 2006, finishing as high as 22nd, and took home $31,140. In 2010, Kulick became the first woman to win on the PBA Tour. It just happened to be at the Tournament of Champions, the tour's signature event.
Title IX comes under fire again
On Sept. 29, the board at James Madison University cut 10 sports -- seven men's, three women's -- to put the school in line with the proportionality requirement of Title IX. Adding women's teams so as not to have to eliminate men's teams, the athletic director explained, was not an option as JMU was already bankrolling 15 women's programs. No matter, the decision wasn't a popular one and a case was filed on the men's behalf. Five years later, a federal court of appeals affirmed JMU's decision.